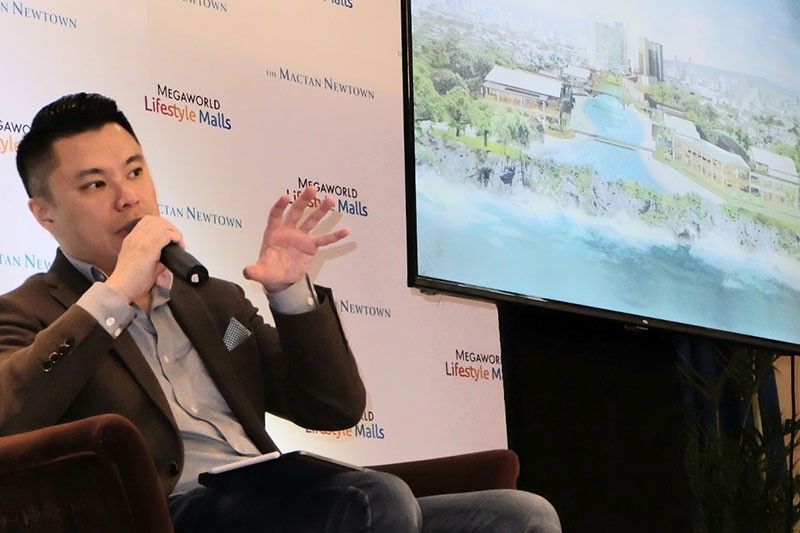 Megaworld Chief Strategy Officer Kevin Tan said the Mactan Newtown Beach Walk is believed to be the first-of-its-kind in the Philippines.
Joy Torrejos
Megaworld beach mall project to employ 1000
CEBU, Philippines — A P1.5 billion 'beach mall' that will soon rise in Lapu-Lapu City, Cebu is expected to generate 500 to 1,000 jobs and boost the local tourism industry.
Property giant Megaworld announced on September 19 that it is building a two-level mall along the beachside cliff of its 30-hectare Mactan Newtown development.
Megaworld Chief Strategy Officer Kevin Tan said the Mactan Newtown Beach Walk is believed to be the first-of-its-kind in the Philippines.
"I don't think there is anything in the country as of yet. So this will be definitely special and one-of-kind," he said.
With a total gross floor area of 30,000 square meters, the project will feature a 1.4-hectare man-made lagoon at the center and its own man-made shoreline at its perimeter.
The lagoon will have floating boardwalks and a bridge that will connect both sides of the mall.
It can also serve as venue for future water sports activities such as jet ski, wakeboarding, stand-up paddling, and boating since the lagoon will be around 1.5 meters deep.
A chapel will also be built and will be surrounded by a garden by the cliffside, overlooking the sea.
Moreover, it will have four state-of-the-art cinemas, a Food Hall, al fresco areas, Traveler's Lounge, and a view deck, providing its visitors and mall goers with a panoramic view of the sea and nearby islands.
The new development is designed and to be operated under the Megaworld Lifestyle Malls brand.
A three-story boutique hotel with 48 guestrooms and retail shops at the ground level will also be built within the mall complex and to be operated under the Megaworld Hotels brand.
"Megaworld Lifestyle Malls is bringing a fresh, new concept of mall development in Cebu that recreates and innovates the beach lifestyle experience. We take inspiration from some iconic coastline commercial developments in South California, where visitors can enjoy coffee, meet friends over lunch or dinner, watch a movie, or simply shop around in this laid-back beach atmosphere," Tan said.
True to its commitment to sustainability, Megaworld will use solar roof panels for the new mall and use an open layout scheme for passive cooling and natural lighting in most of its common areas.
Around 40% of the project will be dedicated to green and open spaces. Some of its untouched areas will be intended for bike trails, airsoft shooting, and tree-top activities.
Tan said the construction of project will start at the end of this year and is targeted to be completed in 2021.
He said they expect a huge part of its market to be composed of tourists owing to the growing tourist population on Mactan Island.
Bullish on the booming tourism industry in the area, Tan said Megaworld is currently constructing 1,100 rooms in Mactan Newtown and is planning to build five-star hotels and resorts in the next five years to accommodate the increase of visitors coming to Cebu. (FREEMAN)