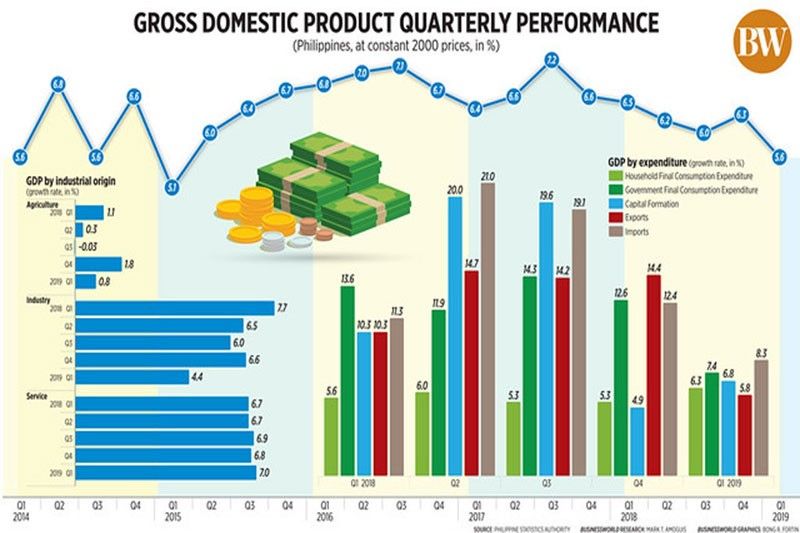 PSA retains Q1 GDP growth at 5.6%
CEBU, Philippines — The government on Wednesday maintained the economic growth rate at 5.6% for the first quarter of 2019, after revisions in the growth of industries were noted.According to the revised gross domestic product (GDP) data, released by the Philippine Statistics Authority, Services growth was revised down to 6.8% from 7.0% while Agriculture eased to 0.7% from 0.8%.
Industry however went up to 4.8% from 4.4%.
Meanwhile, Net Primary Income (NPI) from the rest of the world and Gross National Income (GNI) had corresponding upward revisions from 1.9 % to 3.2 % and from 4.9% to 5.2%.
The PSA revises the GDP estimates based on an approved revision policy (PSA Board Resolution No. 1, Series of 2017-053), which is consistent with international standard practices on national accounts revisions.
The government is expected to release key economic data for the second quarter today, August 8, which will include the second quarter economic growth figures, July inflation, June industrial output, June external trade data, and the central bank's interest rate decision.
Meanwhile, in an earlier report in Philippine STAR, economists have made a modest forecast of 5.8% to 6% growth for the second quarter, which is a bit higher than the 5.6 growth posted in the first three months of the year.
London-based think tank Capital Economics likewise gave a 5.8% growth projection for the second quarter citing government underspending and weak manufacturing output.
It however said that consumer spending will continue to fuel economic growth on the back of the softening of the inflation rate.