Creamline forges decider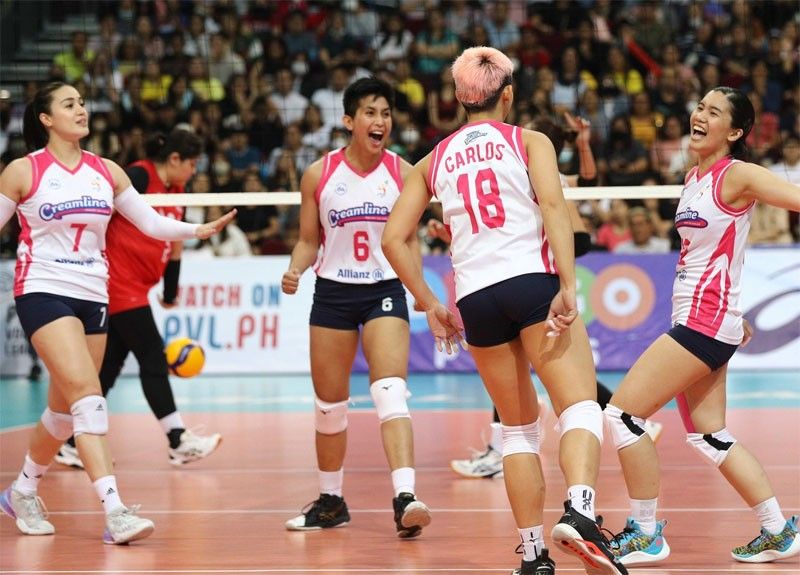 MANILA, Philippines — Creamline poured it all in the deciding fifth set and repulsed upset-conscious Petro Gazz, 18-25, 25-16, 25-18, 23-25, 15-6, to force a no-tomorrow Game Three in the Premier Volleyball League All-Filipino Conference finals last night before a mammoth crowd at the MOA Arena.
Foiled in the fourth set, the Cool Smashers regrouped and blasted the Angels with a crucial 8-0 blitz on the way to snatching the win and arranging one last game for all the marbles tomorrow.
"After the first game, we knew we had lapses and we had to fix it but everyone was prepared to take up the challenge, and we're very happy all our hard work paid off," said Creamline setter Jia de Guzman, who had 30 excellent sets.
The Cool Smashers, beaten 25-22, 24-26, 25-23, 26-24 Sunday, needed a set to find their old groove. They got it in the second as they fought back from an opening-set defeat then rolled on the next for the 2-1 upper hand.
Creamline had a chance to finish off Petro Gazz in the fourth but unnerving errors including a pair of service mistakes allowed the latter to steal the set and send the match to a decider.
But it proved to be Petro Gazz' last show of force as the Cool Smashers came alive again with the three-headed dragon of Mich Gumabao, Tots Carlos and Jema Galanza doing most of the damage to turn a 2-2 deadlock into a crucial win.
When it was over, Gumabao had 21, Carlos 20 and Galanza 17.
Earlier, F2 Logistics claimed third-place honors with a 23-25, 25-23, 25-23, 25-15 win over PLDT.
"Sobrang special ng moment na ito sa amin na makapasok sa Final Four for the first time na una naming target. Tapos ngayon podium finish naman," said F2 setter Kim Fajardo, who shed tears of joy after the momentous occasion.
Just a couple of days removed from its 20-25, 25-22, 25-18, 25-17 Game One win, F2 went into the game with a mindset of finishing PLDT off. The Cargo Movers fought and clawed its way in an ultra-tight first three sets when the former went up, 2-1.
The Cargo Movers never relented from there as they continued to play with intensity that proved too much for the High Speed Hitters, who were undone and unnerved by errors both forced and unforced in the decisive fourth set.
"Una pa lang naman before the start of the game ang mindset namin ay 'amin ito,' wala nang iba," said Fajardo, who did it all as she had 24 excellent sets while scattering 11 points laced with a match-best six kill blocks.
Kianna Dy provided additional firepower with 19 hits including 15 on kills while Ara Galang and skipper Aby Maraño chipped in 11 apiece.
The Cargo Movers, always a force to reckon with in the country's premier volleyball league, formed a circle at centercourt to celebrate the victory.
It was a team effort – from start to finish. But on this game, none shone brighter than Fajardo.