Irving debuts for Mavs with 24 points in win
February 9, 2023 | 3:49pm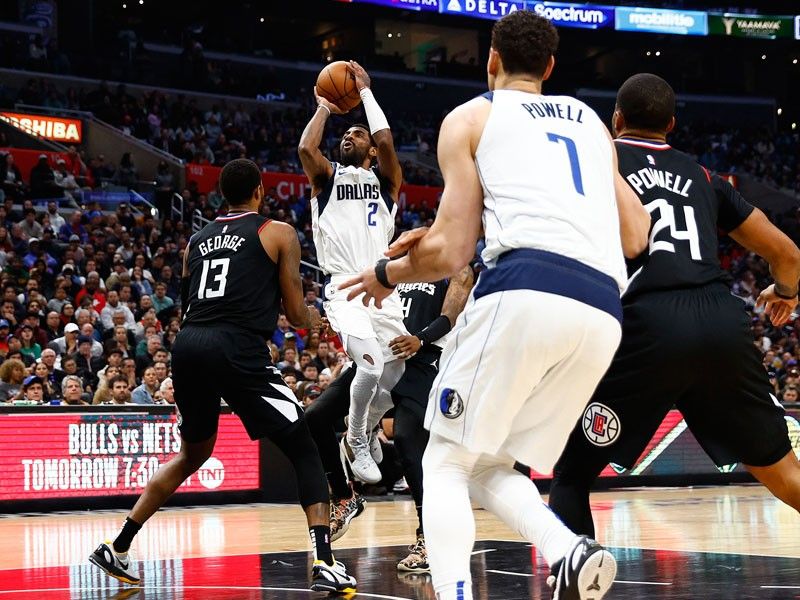 LOS ANGELES – Kyrie Irving shook off some new-team nerves Wednesday (Thursday, Manila time), scoring 24 points in his Dallas debut to lead the Mavericks to a 110-104 NBA victory over the Los Angeles Clippers.
Irving, a former NBA champion and eight-time All-Star who was traded to Dallas on Sunday after a sometimes controversial tenure with the Brooklyn Nets, added four rebounds and five assists and the Mavs led all the way despite the absence of star Luka Doncic, who remained sidelined with a foot injury.
"Incredible," Irving said of his first game since the trade he requested from Brooklyn, where, he said this week, he "felt very disrespected."
"I had natural nerves out there, so I was just trying to play well," he added. "I got to play the game that I love with some guys that were selfless out there and it just feels good."
Irving made nine of his 17 shots from the field and delivered four 3-pointers against a Clippers team that was among those reportedly courting him once his trade request became public.
Dallas coach Jason Kidd said Irving's contribution went beyond scoring for a Mavs team that has floundered without Doncic on the floor.
"His leadership down the stretch of getting everyone organized... a lot of great stuff on this new journey with him. It's going to be fun."
The Mavericks shot out of the gate, fueled by five 3-pointers in the first quarter from Reggie Bullock. Irving found his range in the second period to help them push their lead to as many as 19.
Clippers star Kawhi Leonard scored 13 of his 18 points in the third quarter as Los Angeles closed the gap, but Irving and the Mavs had more than enough to keep them at bay.
Lillard fuels Portland
In Portland, Damian Lillard had a triple double of 33 points, 10 rebounds and 11 assists as the Trail Blazers rallied to beat the Golden State Warriors 125-122.
Jordan Poole scored 38 points and Klay Thompson added 31 for the Warriors, who were again without injured Stephen Curry.
The Sacramento Kings edged the Rockets 130-128 in Houston, where De'Aaron Fox made three free throws with three-tenths of a second left to seal it after Eric Gordon was charged with a debatable shooting foul.
Fox scored 13 of his 31 points in the fourth quarter as the Kings withstood 41 points from Houston's Jalen Green to win a tight back-and-forth battle that featured 22 lead changes.