Angelis Resort pace home bets in Manila Hustle 3x3 opening day
February 4, 2023 | 8:18pm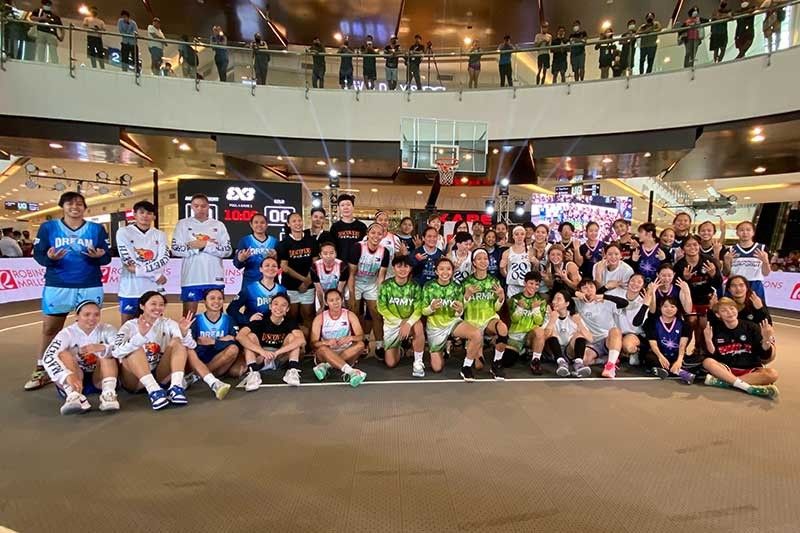 MANILA, Philippines — Angelis Resort was the lone local bet to clinch an outright berth to the quarterfinals of Manila Hustle 3x3 Philippine Women's 3x3 International Invitational as Day 1 hostilities closed at Robinsons Magnolia on Saturday.
They swept both their assignments in Pool A, as they opened the day's action with a victory over South Korea's G2L2, 21-15.
Camille Claro, Jenina Solis, Blanche Bahuyan, and Maryjoy Galicia then followed it up with an 18-16 squeaker past compatriots Uratex Tibay to improve to 2-0.
The wins helped Angelis Resort clinch one of the four automatic berths to the quarters, as only the winners of the four groups move on to the next round outright.
Joining Angelis Resort were the two Japanese teams Zoos Tokyo and Owls.Exe Kujukuri, and Thailand's Shoot It Dragons.
Zoos Tokyo beat two Philippine teams in Army Altama (18-16), and Lady Macbeth Riots (16-15) in Pool D.
They are bannered by Japan's Top 2 3x3 players Aoi Katsura and Yuka Maeda.
Owls.Exe Kujukuri, for their part, drubbed Singapore's Jumpshot (22-8), and the Philippines' Uratex Dream (21-13) to win Pool C.
Pool B winner Shoot It Dragons and Philippines' Discovery Perlas both had 1-1 slates, but superior winning margin had the visitors go through the next round automatically.
But the Filipinos will be well represented in the quarterfinals as three others joined Angelis Resort through the Pre-Quarter Finals knockout games.
Discovery Perlas dominated Jumpshot, 21-9, as Allana Lim, Raiza Dy, Hazelle Yam, and Xiaojing Zheng lived to compete in Day 2 hostilities.
The Lady Macbeth Riots, bannered by national team mainstays Trina Guytingco, Khate Castillo, Janine Pontejos, and Kacey Dela Rosa of Ateneo, claimed their spot against Uratex Tibay, 21-14.
Like their sister team, the Uratex Dream also could not make it to Sunday's games as they fell against South Korea's 1EYEHANSOL, 19-15.
In the last game of the day, the Army Altama — comprised of Marilourd Borja, Chack Cabinbin, Camille Sambile, and Mar Prado — took the last spot in the quarters with a 21-7 drubbing of G2L2.
Day 2 hostilities of the tournament backed by Uratex and Smart continue at Robinsons Magnolia beginning at 11 a.m.