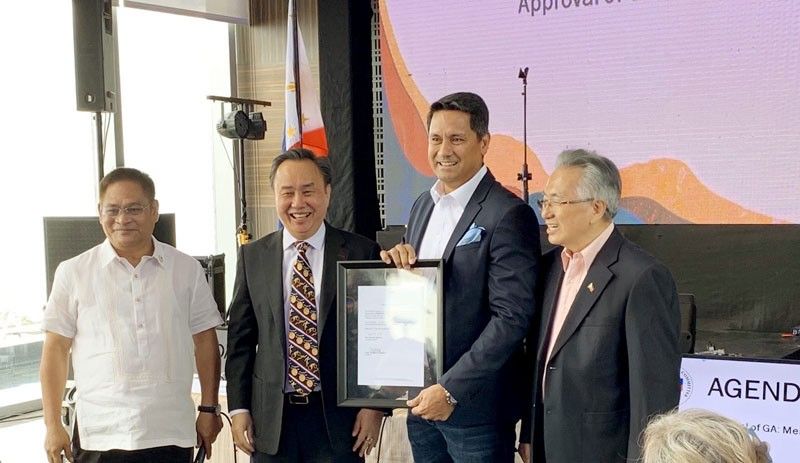 POC president Cong. Abraham 'Bambol' Tolentino, second from left, presents the Certificate of Regular Membership to Modern Pentathlon president Richard Gomez at the POC General Assembly Tuesday at the Conrad Hotel. Looking on are POC Secretary-General Atty. Edwin Gastanes (left) and POC chairman Steve Hontiveros.
Strategic roadmap for Olympics up ahead
MANILA, Philippines — It would not be smooth sailing but the Philippine Olympic Committee, in close partnership with Filipino athletes, is already starting to map out plans to sustain the country's charge or even catapult it to unparalleled heights.
With Team Phl fresh from a masterful performance in the just concluded 30th SEA Games, the POC calls for a collective, strategic and effective roadmap for the 2020 Tokyo Olympics and the 2021 Vietnam SEA Games.
POC executive board member Cynthia Carrion said the country has done the first step which was to create avenues for Filipino athletes to train, condition and develop with the construction of world-class sports facilities at the New Clark City in Capas, Tarlac.
"It's a little different now. We have the facilities already. The athletes saw the wonderful facilities built for them so they are motivated right now. I hope we will not go down and I know that they will continue the fight," said Carrion as the Philippines tallied a 149-gold, 118-silver and 120-bronze medal harvest to cop the SEAG overall championship.
For the SEA Games, the Philippines indeed pulled out all the stops with the construction of the New Clark City that included a 20, 000-seater athletics stadium and 2,000-seater aquatics center that served as the main venue of the biennial meet.
The historic Rizal Memorial Sports Complex, which also housed major SEA Games events, was also given a new and modern look – all in a bid to provide the Filipino athletes new homes to train and get ready for more upcoming international events.
But there's more to the country's success than just having a conducive facility, according to athletes who cited proper funding, continuous government support and more international exposure as key factors in transforming the Philippines as a major force in sports world.
"I think the government support will continue to bring sports further," said Jowi Uy of Philippine women's underwater hockey which bagged a silver medal in the SEA Games.
"We're banking on continuous government support including training abroad for it really helped our campaign in SEA Games. We had an 11-day Japan camp for this SEA Games that really proved a difference," said Roy Canete of men's water polo that also captured a silver medal.
But more than these macro factors, skipper Cheska Altomonte of unbeaten women's softball team said that the most effective key the country has to utilize is the strength of each national sports association.
"We can't depend entirely on the government. We also have to depend on our NSA's to find the right funding in order for us to continue the way we're playing," said Altomonte.
"For softball, we've never lost in the SEA Games. We've always gotten the gold and that's also because of the support of our NSA and the PSC. It works hand in hand. It really starts with your NSA. If the NSA is working well, then the program is good enough to sustain."
With all these in place, POC president Abraham "Bambol" Tolentino believes that the country is bound for more greatness regardless of even tougher challengers ahead.
"It will not be easy but the real work is just about to begin. We hope to continue working with all the sectors to help our athletes bring more success and pride to our country. We have proven that anything is possible with our unity. This is only the beginning. We're just getting started," he said.