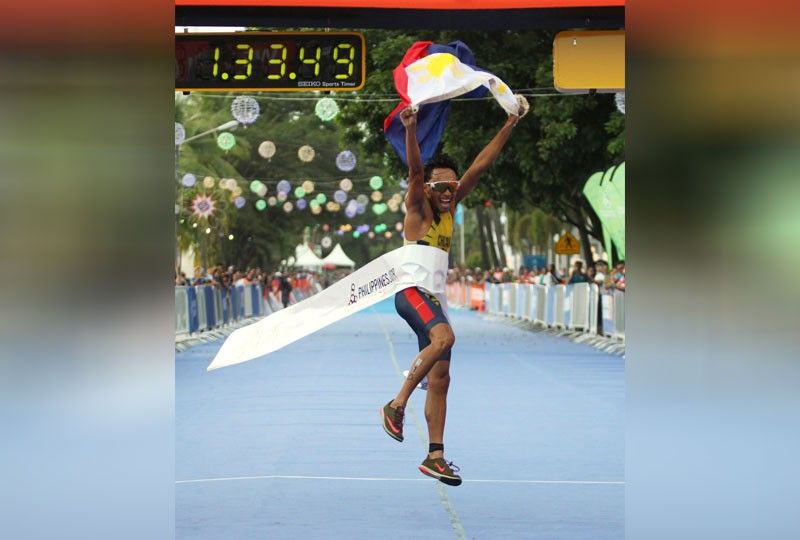 Local bets dominate triathlon
MANILA, Philippines — Triathletes John Leerams "Rambo" Chicano and Kim Mangrobang extended their 30th Southeast Asian Games reign to the mixed relay event, powering the hosts to yet another gold medal yesterday at the Subic Bay Boardwalk.
Ironman Chicano and "Kim-stoppable" Mangrobang did not skip a beat as they joined Fernando Casares and Maria Claire Adorna in the Phl quarter's mixed relay victory, just a day after being hailed as the king and queen of the individual categories.
The back-to-back SEA Games individual triathlon winner Mangrobang sparked the Nationals campaign, then Casares and Adorna followed suit before Chicano put on the finishing touches to finish the 340m swim - 6.6km bike – 1.8km run race in just one hour, 33 minutes and 47 seconds.
"Start strong, finish stronger. That's our strategy for this event and that's what we did. It also helped that we had teammates with fresh legs (Casares and Adorna)," said Mangrobang, who clinched her second gold medal in two days.
Chicano, who just set a new SEAG record in men's triathlon (1:53:26) the other day, also bagged his second gold, which he credited to his three teammates for easing off the pressure on him by building a huge gap upon his turn.
"It was just a slight pressure for me being the last campaigner but I still put my best effort to assure the country yet another gold medal. We're happy to sweep the triathlon events and we're now looking forward to the Asian Championships," added Chicano, who also ran extra 200 meters as per the mixed relay rules.
Singapore (1:37.58) and Indonesia (1:38.57) wound up for silver and bronze, respectively.