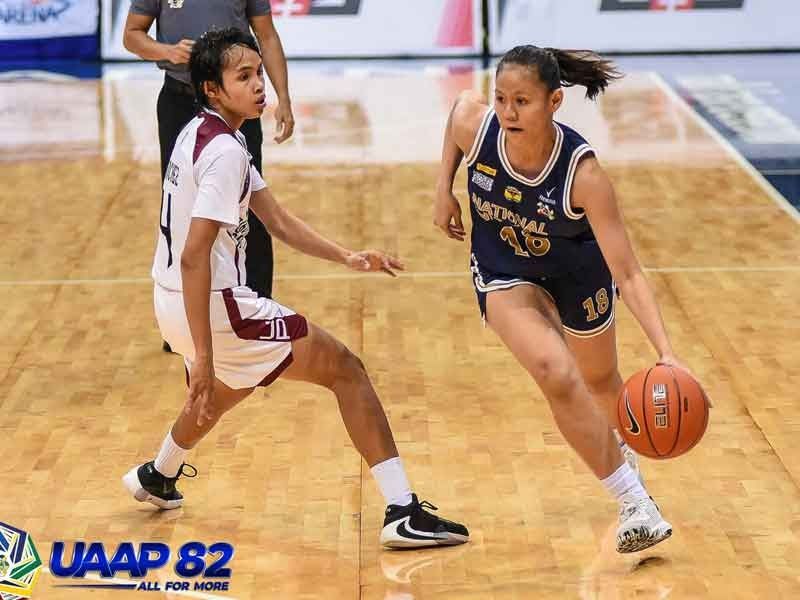 NU's Melody Cac (right) finished with 13 points, hitting two triples.
UAAP
Lady Bulldogs' bench shines in 105-53 blowout of UP
(Philstar.com) - September 18, 2019 - 10:45am
MANILA, Philippines – National University flaunted its depth in another dominant outing, romping University of the Philippines, 105-53, in the 82nd UAAP women's basketball tournament Wednesday at the Mall of Asia Arena in Pasay City.
The usual suspects powered the Lady Bulldogs to its 85th straight win, fifth for the season, as Jack Animam had 16 points and 12 rebounds in just 18 minutes of game time while Rhena Itesi added 11 points and nine rebounds in 16 minutes of play.
But for Lady Bulldogs head coach Patrick Aquino, this game was his opportunity to field the second and third stringers of his team.
"I told them earlier that those people that are having less playing time have to show up. It's in preparation for something better for the next few games," said Aquino. "They need to have that feeling that they know how to win and play the game will make us more prepared for the grind of the season."
Making the most of the playing time given to her was Melody Cac, who had 13 points and hit two triples.
"She's been always there. Sa akin lang is nawawala lang yung opportunity niya because of our depth," Aquino said about the 20-year-old guard. "I just told her to be patient. She'll probably be one of our best players next year because she has that good stroke and she could play defense."
Behind a huge second quartet that saw NU score 29 points while limiting UP to just five points, the Lady Bulldogs mounted a huge 43-point lead to end the first half. NU's lead would go to as high as 53 points during the closing seconds of the game.
Filipino-Canadian rookie Camille Clarin added 11 points while Kaye Pingol chipped in 10 points in just six minutes. All 15 Lady Bulldogs scored in the contest.
UP, which suffered it 34th straight loss to go down to 0-4 for the season, was led by Rei Sanzhez's 21 points. Pesky Pesquera had 15 points and nine rebounds as well.
The scores:
NU (105) – Animam 16, Cac 13, Clarin 11, Itesi 11, Pingol 10, Fabruada 7, Bartolo 6, Supada 6, Canuto 5, Hayes 5, Cacho 4, Harada 4, Goto 3, Del Carmen 2, Dimaunahan 2.
UP (53) – Sanchez 21, Pesquera 15, Larrosa 7, Hidalgo 5, Rivera 3, Gonzales 2, De Leon 0, Gusilatar 0, Lucman 0, Taulava 0.
Quarterscores: 33-14, 62-19, 81-36, 105-53