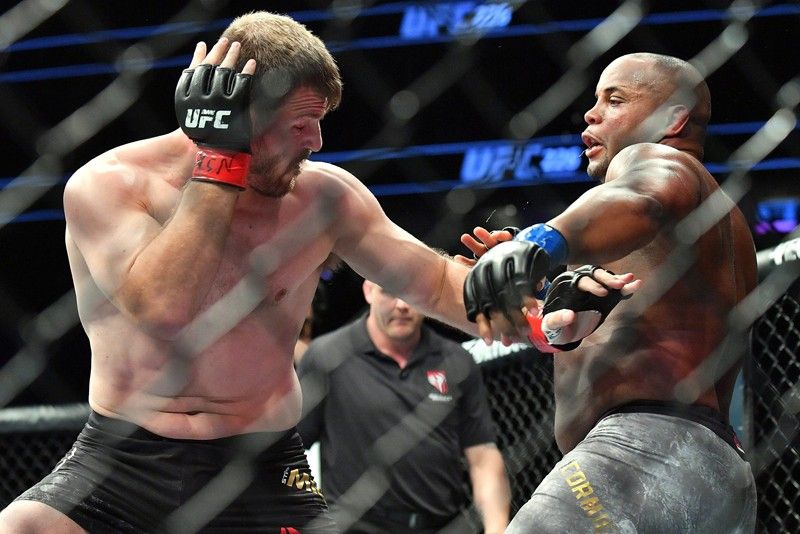 The Cormier-Miocic rematch promises nothing but an explosive face-off.
Daniel Cormier, Stipe Miocic brace for UFC rematch
(The Philippine Star) - August 15, 2019 - 12:00am
MANILA, Philippines — Fight fans will be in for another treat as Daniel Cormier and Stipe Miocic slug it out in a much-awaited rematch of two of the world's fiercest heavyweights in UFC 241 Sunday at the Honda Center in Anaheim, California.
Cormier scored a controversial technical knockout win over Miocic in their first face-off in UFC 226 in Las Vegas last year in a match that drew a lot of flak due to Cormier's alleged foul play. In the middle of the first round, footage showed that Cormier might have used an illegal "eye poke" which caught the Croatian-American fighter off-guard.
The match ended right before the end of the round after Cormier scored an elbow and hit Miocic with a flurry of punches, leading to the TKO.
That makes the upcoming showdown, to be aired live on FOX+, doubly interesting with Cormier, the reigning No. 1 pound-for-pound and No. 1 heavyweight fighter in the UFC, raring to prove his worth again with his aggressiveness, uppercuts and wrestling technique and Miocic out to use his height and reach advantages to the hilt in a bid to even things up.
Boasting of a fantastic record, winning all but one of his 23 fights, Cormier, a former Olympic wrestler and mixed martial artist, won 10 matches via TKO and five on rear-naked choke.
But Miocic, a former UFC heavyweight world titlist, will be coming into the event brimming with confidence. Precise and calculating, Miocic won most of his matches through striking alone, winning 15 of 21 via TKO.