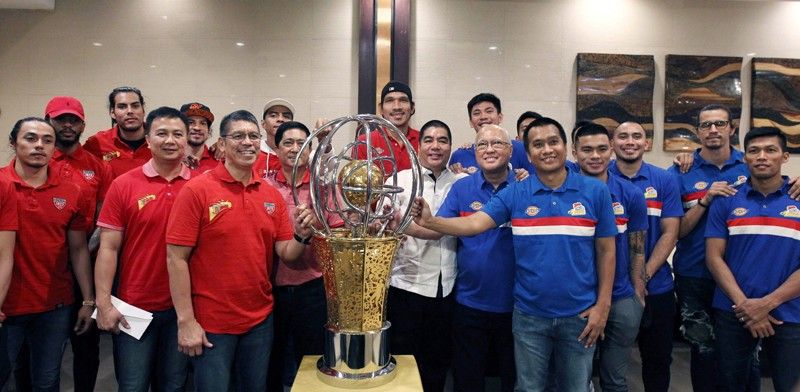 The SMB Beermen and Magnolia Hotshots join league commissioner Willie Marcial (in white shirt) during yesterday's pre-finals press conference.
Jun Mendoza
'They're hungrier than us'
Olmin Leyba
(The Philippine Star) - April 30, 2019 - 12:00am
San Miguel coach on Magnolia
MANILA, Philippines — Reigning champion San Miguel Beer and last year's runner-up Magnolia mix it up for the second time in the PBA Philippine Cup finals with the Beermen deadset on repeating and the Hotshots bent on writing a different ending this time.
The Beermen beat the Hotshots in their 2018 showdown, 4-1, en route to a four-peat but the Hotshots have since made strides and made their own title run in the season-ending Governor's Cup, giving the challenger more championship experience and confidence going to the Last Dance that begins Wednesday.
"I think since that finals, we've matured and gained a lot of experience, especially in the last conference where we won a championship," said Magnolia coach Chito Victolero, whose wards survived a gruelling seven-game series against Rain or Shine in the semis before earning another crack at SMB's throne.
"The core of the (Gov's Cup) championship team is still here but San Miguel has two new players who were not in the 2018 finals in Christian Standhardinger and Terrence Romeo. We know how big a factor these two are and we can't do anything about it but prepare hard. We know we're the underdogs here. Well, since the start of the conference, we've been the underdogs and we have to go through a lot, but one thing's for sure, we'll be there fighting," he added.
SMB mentor Leo Austria said the five-peat-gunning Beermen have to match the payback-seeking Hotshots' hunger.
"They've gained experience from the last conference and I think they're hungrier than us," said Austria, whose charges advanced to their fifth consecutive finals stint after a 4-1 disposal of top seed Phoenix in the Last-4. "But for us, winning is a habit, it's become a lifestyle. Ever since we won the championship, what's prevailing in our team is pride. We don't want to lose anymore."
The SMB-Magnolia title engagement features players out to cash in on the opportunity to either capture a first-ever PBA title like Romeo or add the prestigious All-Pinoy jewel to their missing collection like Hotshots ace Paul Lee.
"It's my chance to win the Philippine Cup but it will be tough because we're up against San Miguel again. We're still the underdogs here but we'll give it our 100 percent every game, and be happy with whatever result we get. In this series, we'll give them a good fight, try to make it a close game and if we have the chance in the endgame, grab it," said Lee, owner of two Governor's Cup crowns and one Commissioner's Cup diadem but without the All-Filipino yet.
"I'm excited to play in my first finals but I'll treat it like a regular game where I'll give my best," said Romeo, who hasn't reached this far in previous stints with GlobalPort and TNT.
Victolero himself has yet to make a breakthrough in the Philippine Cup whether as a coach or as a player.
"I asked the team how many of you has won the All Filipino and I think less than 1/4 of the team said yes. So, we agreed to help one another win this championship," said Victolero.
But the Beermen won't be lacking on motivation, too. They can capture an unprecedented fifth consecutive Philippine Cup crown by getting past Magnolia.
"This will be a good series," said Victolero.