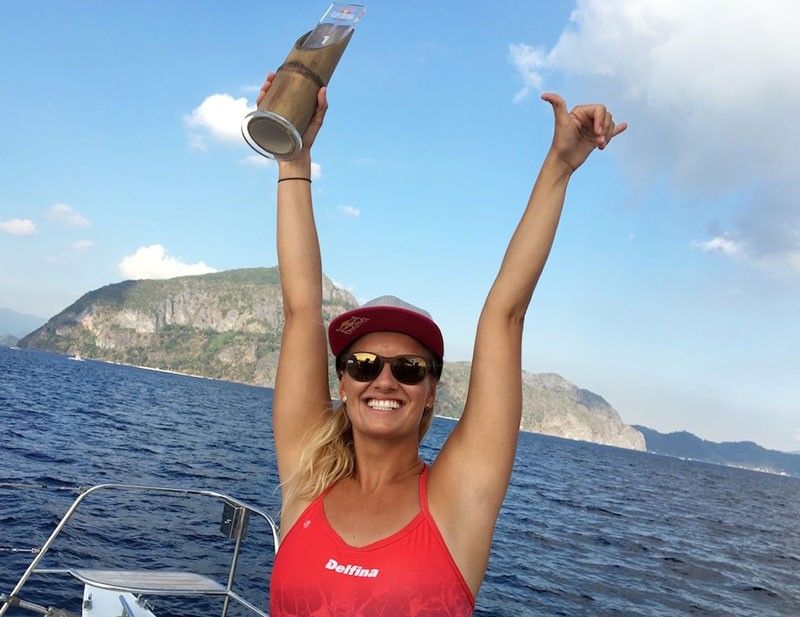 The women's champion celebrates.
Gary Hunt, Rhiannan Iffland conquer El Nido
Abac Cordero
(The Philippine Star) - April 15, 2019 - 12:00am
Red Bull cliff diving
EL NIDO, Palawan, Philippines — From a distance, they were like birds in the air.
And not until they hit the waters, feet first, from a free fall nine storeys high, would one realize it was a cliff diving competition.
It's truly world-class: the Red Bull Cliff Diving World Series that chose the heavenly blue lagoons of El Nido its first stop for 2019.
The world's best in the scary and dangerous sport faced the challenge of jumping off the grayish limestone towers of Miniloc Island into the crystal-clear waters.
After a couple of days warming up, the 24 participants engaged in a day-long battle last Saturday. They were given four dives each.
Gary Hunt of Great Britain, the face of cliff diving, and Rhiannan Iffland of Australia, with her infectious smile, topped the competition, off to a great start in the seven-leg series that later moves to Ireland, Italy, Portugal, Lebanon, Bosnia & Herzegovina and Spain.
The 34-year-old Hunt nailed his eighth victory in the Red Bull series. For Iffland, it was her fourth straight.
"I had a good day," said Hunt, on board a catamaran, under a party atmosphere, after the competition.
"I saved my best for my last dive," added Hunt, who executed a triple-back summersault with four twists on his final dive.
That earned him 137.80 points after previous dives of 71.4, 88.20 and 129.85 for a total of 427.25.
Constantin Popovici of Romania came in second with a total of 409.40, followed by Jonathan Paredes of Mexico with 408.05, Kris Kolanus of Poland with 380.10 and Steven LoBue of the United States with 365.60.
In cliff diving, there are five judges, on a pump boat. The highest and lowest scores (with 10 the highest) are taken out, with the three others counted on aggregate then multiplied by the degree of difficulty.
"When I need a good dive, I use that dive. It does the trick. But it was a tough competition. I just used my experience," he added.
Iffland, 27, held on to her bamboo trophy on board the catamaran with over 50 people on board.
"It's a good start," she said.
"I did four consistent dives here in the Philippines. I'd like to carry that on for the rest of the season and I'll be happy if I can do so," said Iffland, who loves to surf.
She won the El Nido leg with a triple-inward summersault with a half twist for 106.40 points and a total of 329.25.
Next to Iffland were Yana Nestsiarava of Belarus (319.35), Lysanne Richard of Canada (309.70), Jessica Macaulay of Great Britain (304.55) and Adriana Jimenez of Mexico (292.55).
Filipina-Australian Xantheia Pennisi, whose mother hails from Tarlac, finished seventh on her first Red Bull series with 209.30. Her best dive of 60.80 points was a double-inward summersault with a half twist on a pike position (where divers clip their bodies kissing their knees).
"I'm just learning cliff diving," said the 20-year-old diver and former gymnast.
Everyone agreed that beautiful El Nido and its breathtaking view now ranks high on the list of cliff diving sites in the world.
"It's like art over art," said four-time Olympic diving champion Greg Louganis, the sports director.