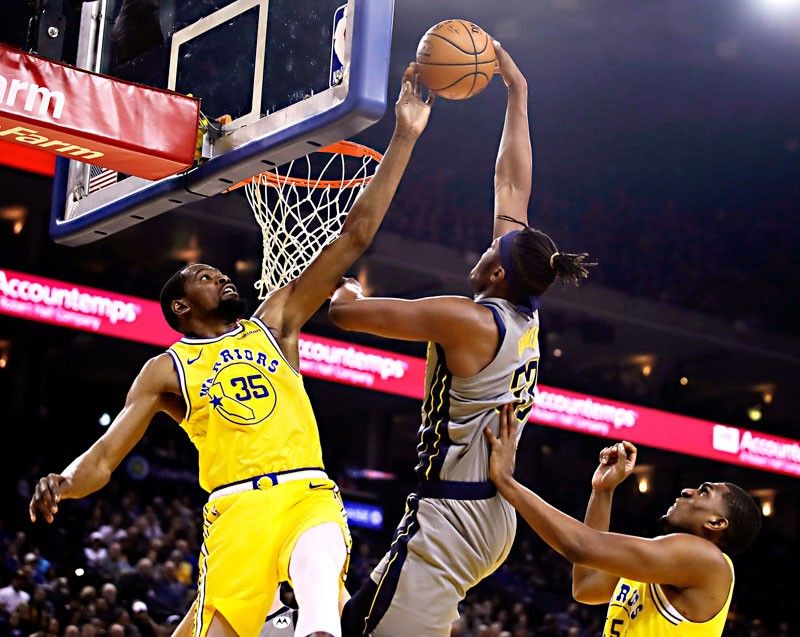 Golden State Warriors' Kevin Durant (left) blocks a shot from Indiana Pacers' Myles Turner during the first half in Oakland, California.
AP
Warriors win in a breeze; Hawks halt Jazz
(Associated Press) - March 23, 2019 - 12:00am
OAKLAND, California – Kevin Durant had 15 points, six assists and three blocked shots after losing a close friend earlier in the day, and Golden State ran away from Indiana 112-89.
Durant led a balanced Warriors attack, playing the same day childhood friend Cliff Dixon was shot to death in Atlanta. Warriors guard Quinn Cook also was close with Dixon as they're all from the Washington D.C./Maryland area.
Stephen Curry scored 12 of his 15 points with four 3-pointers during the Warriors' 35-point third quarter in which they held Indiana to 19.
Tyreke Evans scored 20 points off the bench and Thaddeus Young added 18 points for the Pacers.
In Atlanta, Trae Young scored 23 points, including a go-ahead three-point play, and Atlanta ended Utah's five-game winning streak with a 117-114 victory.
Donovan Mitchell led the Jazz with 34 points.
It was a costly loss. The Jazz entered the game fifth in the Western Conference but only a half-game ahead of a pack of three teams tied for sixth.
In Washington, Nikola Jokic had 15 points and 11 assists, and the Denver Nuggets beat the fading Washington Wizards 113-108 on Thursday night for their fifth straight victory.
Paul Millsap, Gary Harris, Jamal Murray and Torrey Craig also added 15 points for the Nuggets, who were playing for the first time since clinching their first playoff berth in six years with Monday's win in Boston.
In Phoenix, Wayne Ellington scored 23 points and Detroit made 17 3-pointers in a 118-98 victory over Phoenix.
In Charlotte, Kemba Walker scored 31 points, rookie Miles Bridges had 11 points and 12 rebounds for his first career double-double on his 21st birthday, and Charlotte handed Minnesota its fifth straight loss.
In Sacramento, Marvin Bagley III had 22 points and 12 rebounds in his first game against fellow rookie star Luka Doncic, and Sacramento beat Dallas.