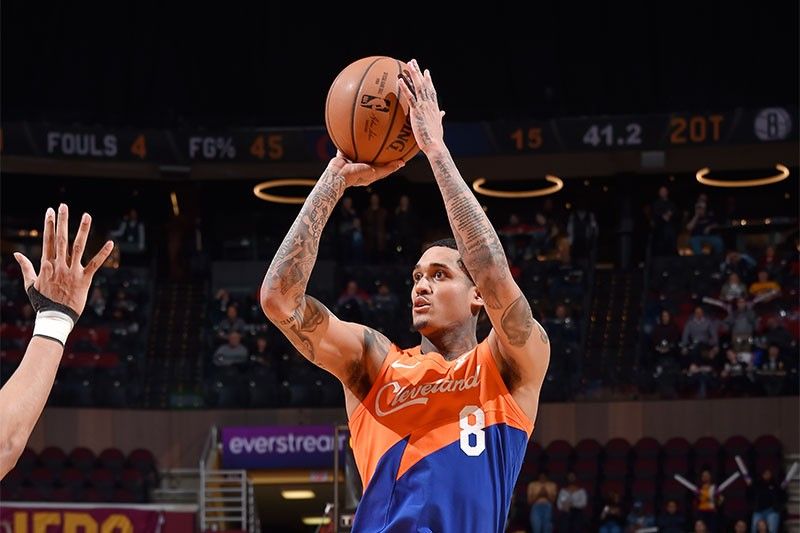 Jordan Clarkson of the Cleveland Cavaliers shoots the ball against the Brooklyn Nets on February 13, 2019 (February 14, 2019 Manila Time) at Quicken Loans Arena in Cleveland, Ohio.
David Liam Kyle/NBAE/Getty Images/AFP
Jordan Clarkson has career game in Cavs' 3OT loss to Nets
MANILA, Philippines – It was a long day for Jordan Clarkson and the Cleveland Cavaliers, after losing at home to the Brooklyn Nets, 139-148, in a heart-stopping triple-overtime match Wednesday in Cleveland, Ohio (Thursday Manila Time).
Despite the heartbreaking loss, Clarkson had quite a game for himself.
Coming off the bench, the Fil-Am guard scored a career-high 42 points along with eight rebounds and five assists in a total of 47 minutes on the court.
Clarkson's performance makes the guard one of only three players over the last 35 years to record at least 40 points, five rebounds and five assists coming off the bench. He joins the company of Allen Iverson and Nate Robinson, who first achieved the feat in 2002 and 2010, respectively.
Clarkson was also an almost-hero in the second overtime period when he scored a basket and sank two free throws to put the Cavs ahead by three, 128-125.
But a desperation three from Brooklyn's DeMarre Carroll forced the game into another extension period, wherein Cleveland simply lost steam .
Clarkson and the Cavs head into the All-Star break with a 12-46 record.