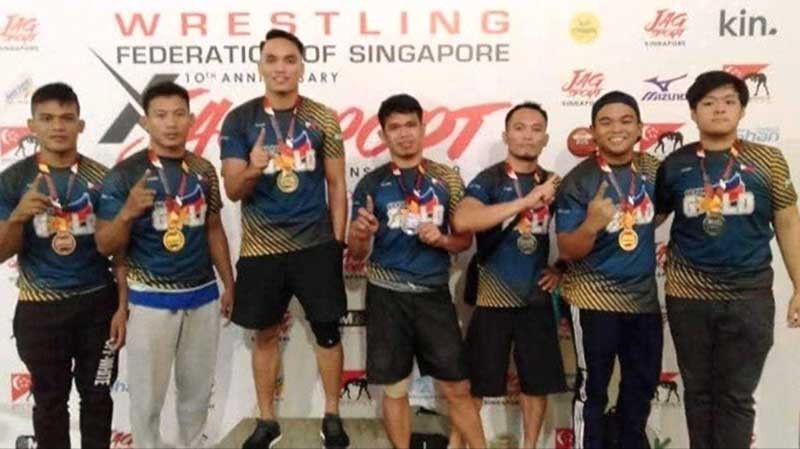 Pinoy grapplers, led by gold medalists Jhonny Morte and Alvin Lobreguito, pose with their medals in the Jagsport Wrestling Championships in Singapore.
Go For Gold wrestlers triumph in Singapore
(The Philippine Star) - December 17, 2018 - 12:00am
MANILA, Philippines — Grapplers Jhonny Morte and Alvin Lobreguito capped the year with a lot of promise the Philippine Go For Gold wrestling team should capitalize on in preparation for the 30th Southeast Asian Games in Manila.
Lobreguito, a bronze medalist in the Asian Indoor Martial Arts Games last year, proved superior to Zhe-Xiu Liu of Chinese Taipei in the 57kg men's freestyle to pocket a gold medal recently in the Jagsport Wrestling Championships in Singapore.
Another gold-medal bet in the SEA Games, Morte topped the 65kg category at the expense of fellow Go For Gold grappler Jonathan Maquilan in a thrilling all-Filipino finale.
After Maquilan settled for the silver, two-time SEAG gold medalist Margarito Angana Jr. pulled off a similar ending after dropping his match against Eko Roni Saputra of Indonesia in the 61kg round.
"This is a good result for the wrestling team and I believe with continued support, they can bring us gold medals in the coming SEA Games," said Go For Gold godfather Jeremy Go.
Also bagging a silver medal in the men's freestyle was Royce Madison King Tiu, who enjoyed a dominant position in the early stages of their 86kg finale before Brian Siano of the US made great strides in turning his fate around to capture the gold.
Overall, the Filipino grapplers brought home two golds and three silvers aside from two bronzes courtesy of Ronil Tubog (61kg) and promising junior wrestler Cadel Evance Hualda (80kg).
"It's too early to tell if we are ready for the SEA Games. The team needs more international exposure, which we are planning to do in our buildup for the Games," said Go For Gold project director Ednalyn Hualda.
Go For Gold is also supporting the SEAG preparation of the national teams in triathlon, sepak takraw, cycling, dragonboat and skateboarding, among others.
"We have already identified the athletes whom we should focus on for them to deliver a gold medal," said Hualda.
Next year's SEA Games will be hosted by the Philippines in Clark, Subic and venues inside Metro Manila on Nov. 30-Dec. 11.