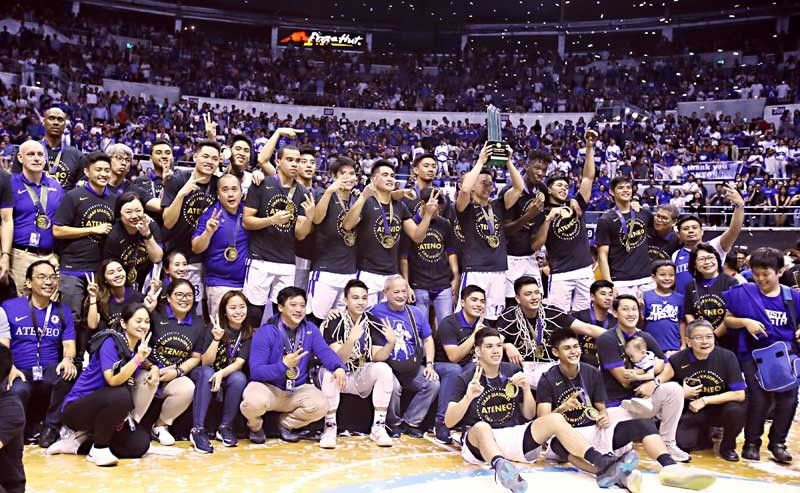 Members, officials and supporters of the Ateneo Blue Eagles flash the 2-sign as they pose with their championship medals after the Eagles win in Game 2 of their best-of-three title series to retain the UAAP seniors basketball diadem.
Joey Mendoza
Hail King Eagles – Royal and Blue
Olmin Leyba
(The Philippine Star) - December 6, 2018 - 12:00am
MANILA, Philippines — The Ateneo Blue Eagles turned an expected thriller into an awesome show of might, flying away with an emphatic 99-81 rout to keep their UAAP men's basketball reign over an overachieving University of the Philippines Maroons, whose Game 2 bid was stymied with key player injury before 23,471 fans at the Smart Araneta Coliseum.
The Blue Eagles fed on their superior form and experience over the Maroons, who had breached a 32-year finals drought but limped and hobbled with their injured MVP all game-long, enabling Ateneo to claim back-to-back titles over their Katipunan rivals.
"It's a great group of brothers," Ateneo coach Tab Baldwin said of the crew he assembled and molded into a cohesive unit working for a common goal. "We want to pursue excellence and a championship is one measure of excellence. If that's a byproduct of the way we do things, we hope to continue getting championships in the future."
Thirdy Ravena dished out arguably the best individual performance in the Last Dance since 2003, dropping 38 big points spiked by five-of-7 clip from beyond the arc and padding his statline with six rebounds, six assists and three steals to help Ateneo deal the death blow on UP.
Ange Kouame, fresh from copping Rookie of the Year honors, asserted himself in the paint and had 22 and 20 plus one steal and two blocks as he outplayed Akhuetie, who played through a knee injury and finished with 19 and 8.
"We made sure hindi kami bibitaw as a team, coach Tab said we can't have let-ups, we can't be casual, it was the last 40 minutes and we had to give it our all," said Ravena, who made 18 in the payoff period to spike his record outing. "My mission was to give everything I can. I didn't really expect to score, it just so happened the shots my teammates set me up for fell."
After a tight 88-79 Game One win where they only pulled away in the final minutes, the Eagles broke away early, racing to a 25-13 first-quarter cushion with Ravena, Kouame and SJ Belangel doing damage. They didn't let their foot off the pedal the rest of the way to wrap their campaign with gold and make UP settle for next best in its breakout season.
Juan Gomez de Liaño fired 24 to lead UP while Paul Desiderio, the face of the Maroons' resurgence from a one-win team to a Final Four contender and finalist, posted 15 on his last UAAP game.
The scores:
AdMU 99 – Ravena 38, Kouame 22, Verano 11, Tio 7, Ma. Nieto 6, Asistio 6, Belangel 6, Go 3, Mi. Nieto 0, Mamuyac 0, Mendoza 0, Andrade 0, Black 0, Wong 0, Daves 0, Navarro 0.
UP 81 – Gomez de Liaño Ju. 24, Akhuetie 19, Desiderio 15, Gomez de Liaño Ja. 11, Dario 8, Lim 2, Vito 2, Manzo 0, Jaboneta 0, Murrell 0, Spencer 0, Prado 0, Española 0, Longa 0.
Quarterscores: 25-13, 48-37, 70-56, 99-81