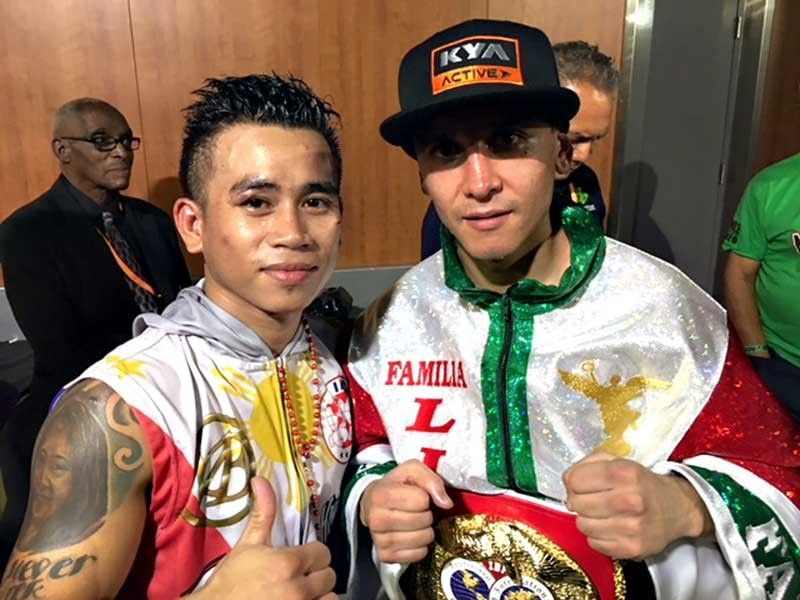 Mark Anthony Barriga (left) and newly-crowned IBF minimumweight champion Carlos Licona.
Joaquin Henson
Robert Garcia predicts Mark Anthony Barriga will be champ
LOS ANGELES – It's not the end of the world for Mark Anthony Barriga who lost to Mexico's Carlos Licona via a split 12-round decision for the vacant IBF minimumweight title at the Staples Center here Saturday night (yesterday morning, Manila time). Licona's trainer and former IBF superfeatherweight champion Robert Garcia described Barriga as a heckuva fighter and predicted he will become a world titleholder sooner or later.
Garcia, 43, used to train Filipinos Brian Viloria and Nonito Donaire Jr. and has visited Manila. "I miss working with Filipino fighters," he said. "Barriga put up a tough fight against Carlos. If you ask where he could improve, maybe, he should be more aggressive because he's too much of a defensive fighter. Barriga's a very skilled fighter and it's because of his Olympic background. That was a close fight against Carlos but I thought Carlos fought well to deserve the title."
Licona, 23, came out smoking in the opening round, firing from all cylinders. Barriga, 25, settled down in the second stanza but it was clear Licona took charge in the early going. Barriga, a southpaw, hardly threw combinations in the first few rounds, raking Licona with his right jab but keeping his left under lock. Then, in the sixth round, Barriga started shaking things up.
At the onset, Licona found it easy to land his long left because Barriga let his right hand dangle down his side. But as Barriga adjusted, things got more and more difficult for Licona to connect. Barriga displayed the defensive skills that earned him the nickname Pinoy Mayweather.
Licona said there was no doubt he won the fight but credited Barriga for a courageous effort. "He's a great fighter," he said. "But I was determined to win. I did it for my parents who sacrificed so much for me. My father sold his truck and my mother, her rings and jewelry so they could raise money to finance my boxing career, to pay for hotel and training expenses. I finished up to high school in California then I went back to Mexico to pursue my boxing career. I stopped schooling to focus on boxing. Now that I've reached my goal of becoming a world champion, I'm going back to school. I'll continue boxing but eventually, I want to become an X-Ray technician."
Licona said his father makes a living by selling furniture while his mother is a housewife. A younger sister Lina, 20, is a pro fighter, too, with a 2-0 record.