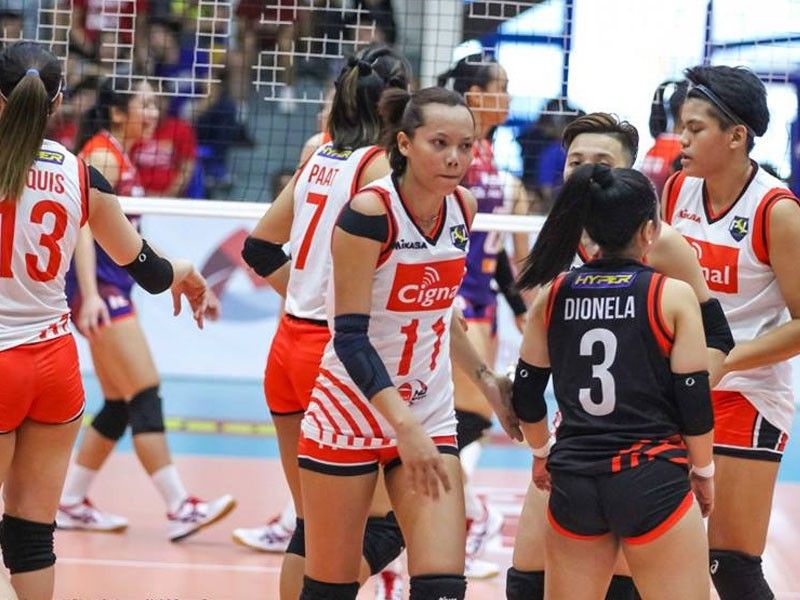 Cignal coach Edgar Barroga said the HD Spikers need to be confident enough and trust themselves, especially when the going gets tough.
Philippine Superliga/Roman Prospero
Lack of endgame poise hurting Cignal's PSL bid, says coach
(Philstar.com) - November 19, 2018 - 6:12pm
MANILA, Philippines – It may be a talented team, but Cignal's lack of confidence is dooming its chances in the Philippine Superliga All-Filipino Conference.
Head coach Edgar Barroga said their lack of endgame poise worked to their disadvantage, prompting them to surrender a sorry five-set loss to Petron in their previous game at the Caloocan Sports Complex over the weekend.
In that match, Frances Molina and Mika Reyes did the damage for the Blaze Spikers, who cruised to their fifth straight win in this season-ending conference.
On the other hand, skipper Rachel Anne Daquis, Shirley Salamagos, Mumay Vivas and Mylene Paat surrendered to pressure in the second and third sets, sending the HD Spikers to their third loss in six games.
Barroga said they have to improve their confidence if they want to go far.
"I want them to be more confident against any team — be it a team-to-beat like Petron or any other team," said Barroga, whose crew will face Smart on Tuesday at the Filoil Flying V Centre in San Juan.
Actually, the HD Spikers have nothing to be nervous of.
Daquis is overflowing with local and international experience after leading Petron to a clean sweep of the All-Filipino Conference in 2015 before seeing action in various international tourneys, including the prestigious FIVB Women's Club World Championship in 2016.
Paat is also a rising star who made her presence felt in the Asian Games and Asian Women's Cup early this year while setter Acy Masangkay and libero Jheck Dionela were part of the national squad in a couple of international tourneys.
Of course, open spiker Royse Tubino is also a many-time national team member as well as Jovelyn Gonzaga, who remains injured but still contributes some valuable nuggets from the bench.
Barroga said what he has is a very strong team.
All they have to do is to be confident enough and trust themselves, especially when the going gets tough.
"They have what it takes to win games," he said.
"But sometimes, I can sense that they don't trust themselves enough and it shows with the way they play inside the court."
He said there's nothing to solve it but a morale-boosting win.
"That's why we will go all-out on Tuesday. We want to post a big win that would give us the confidence moving forward."