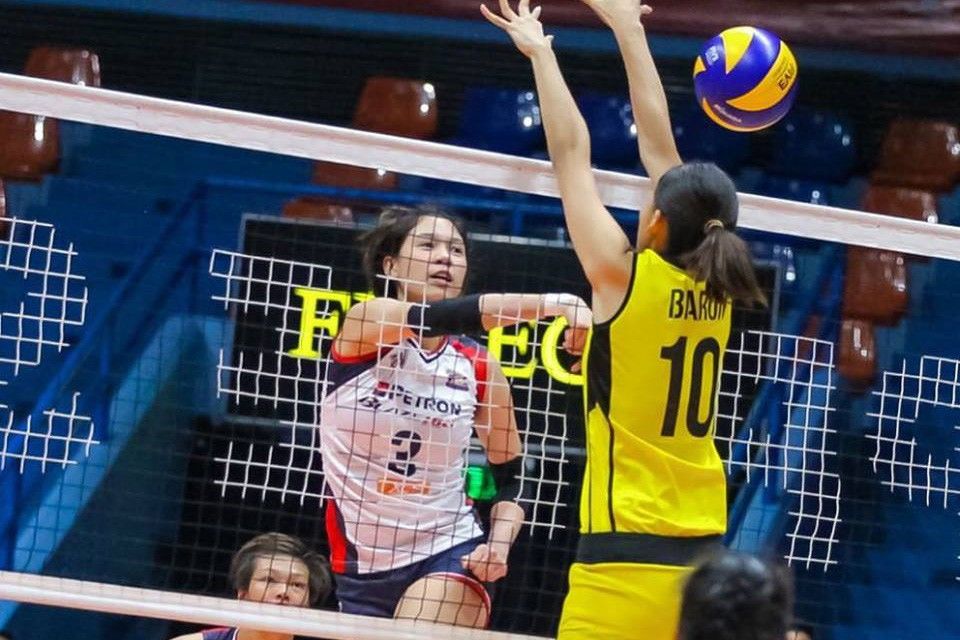 Mika Reyes of Petron attacks the defense of F2 Logistics' Majoy Baron in this file photo.
Philippine Superliga
Petron, F2 renew rivalry in showdown for solo lead
MANILA, Philippines – Expect a dogfight when Petron and F2 Logistics clash for the solo lead in the Philippine Superliga All-Filipino Conference on Saturday at the Alonte Sports Center in Binan City.
Game time is at 6 p.m. with tension and drama expected to flare since both the Blaze Spikers and the Cargo Movers are dead serious to book a morale-boosting win following a dramatic finals encounter last year.
This battle has all the ingredients to become a classic.
Aside from emerging victorious in their first three matches, both the Blaze Spikers and the Cargo Movers have the firepower and the defensive intensity to prevail over one another.
Petron coach Shaq Delos Santos has depth in all positions with Rhea Dimaculangan as setter, Mika Reyes and Remy Palma as middle blockers, Frances Molina, Sisi Rondina and Bernadeth Pons as open spikers, Aiza Maizo-Pontillas as opposite hitter and Pia Gaiser and Buding Duremdes as libero.
On the other hand, F2 Logistics mentor de Jesus has Kim Fajardo as setter, Aby Marano and Majoy Baron as middle blockers, Ara Galang and Cha Cruz as open spikers, Kianna Dy as opposite hitter and Dawn Macandili as libero.
De Jesus, in fact, was supposed to handle the national team in its return to the Asian Games for the first time in 36 years until Delos Santos took over.
"Both squads have national team players so expect a dogfight," said de Jesus, adding that chemistry will play a major role in what sideliners believe as another chapter to their storied rivalry.
"They've been together for quite some time now and we've been meeting in the finals for the past conferences so we already know each other well."
Actually, F2 Logistics ruled the All-Filipino Conference in 2016 until Petron knocked the crown off its head in Delos Santos' first conference as head coach the following year.
They met again in the finals of the Grand Prix with the Cargo Movers being bannered by Maria Jose Perez and Kennedy Bryan and the Blaze Spikers being led by Hillary Hurley and Lindsay Stalzer.
F2 Logistics won the title, but Petron stormed back few months later when Katherine Bell replaced the injured Hurley early this year.
Delos Santos believes that the key to beating Petron is a good preparation.
"We really have to prepare against Petron," said de Jesus, adding that they would definitely make some adjustments to counter the Blaze Spikers' torrid assault.
"It's important for us to do our adjustments because we know how strong our opponent is."