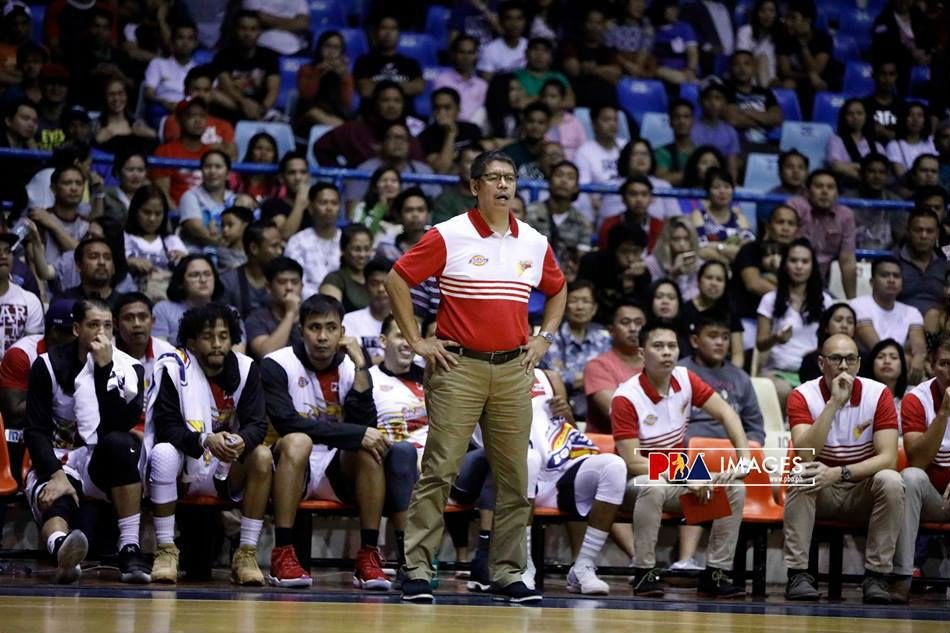 San Miguel Beer head coach Leo Austria
PBA Images
Austria says Ginebra on track to becoming a PBA powerhouse
MANILA, Philippines — San Miguel Beer head coach Leo Austria suggested that it was only a matter of time until Barangay Ginebra regains its edge as perennial contenders to the crown in the league, and until they challenge the reign of the Beermen.
That's all thanks to the grizzled veteran in tactician Tim Cone.
"Ever since coach Tim Cone coached Ginebra, I know, that this time will come. I know that we will face (each other) again in the championship," Austria said after his squad was knocked out of the throne on Wednesday night.
"Maybe because they developed some cohesiveness and then developed experience they need especially in a game like this," he pointed out.
"They are emerging as [a] powerhouse team," Austria offered. "I'm thinking na they are really a threat."
Austria was enjoying an unscathed string of six trips in the Finals before they faced Ginebra. The Beermen were also favorites to defend their crown and shoot for antoher Grand Slam bid until the Gin Kings dispatched them in six games.
But Austria, who was the architect behind San Miguel's last four straight all-Filipino titles, also hinted that it was just a matter of time before they absorbed a wake-up call.
"It's hard to maintain being on top of the mountain. Sooner or later, babagyuhin ka, babagsak ka rin. Now, it's happening," he explained.
"Alam ko na we were a little bit complacent. Not only the players — everybody from the ball boys to the coaching staff. Sometimes, you're so lenient with them because they give us a lot of championship. You give it back to them, na kung tatay eh, sige, medyo pagbibigyan kita ng konting layaw. Pero hindi pala maganda eh," Austria admitted.
But for his part, Austria already knows how to bounce back.
"You have to be consistent because this is a sport that you have to keep striving hard dahil in a competition, consistency is something we have to have," he closed.