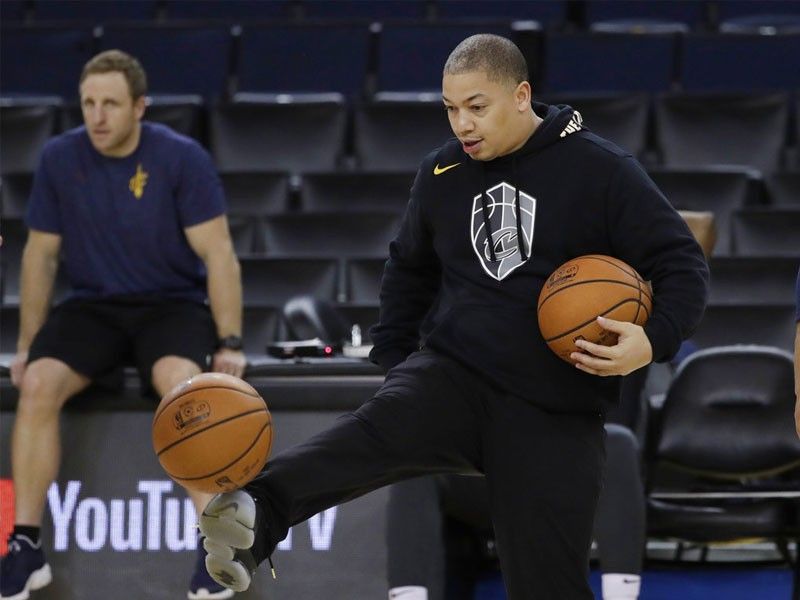 Cleveland Cavaliers head coach Tyronn Lue juggles a basketball with his feet during an NBA basketball practice, Wednesday, May 30, 2018, in Oakland, Calif.
AP/Marcio Jose Sanchez
Cavs coach Lue undergoing treatment for anxiety
OAKLAND, Calif. — Cavaliers coach Tyronn Lue is being treated for anxiety, saying before Game One of the NBA Finals that the pressure-packed playoffs bring him so much joy.
He also realizes there are so many people dealing with challenges in life, so his story may help others.
Lue took a leave of absence on March 19 for health reasons and when he returned April 5 acknowledged he experienced "piercing" chest pains during two games this season.
"A lot of people are going through a lot of different things," Lue said Thursday at Oracle Arena (Friday Manila time). "Just being able to cope with it and understand that there's a lot of different people that have reached out since yesterday, I guess, and told me they experienced some of the same things."
The 41-year-old Lue said he has heard from many people offering support since his ESPN interview during which he revealed the anxiety, noting he didn't intend to reveal so much.
"To be honest, I messed up," Lue said. "I didn't even really know I said it.
"The biggest thing is that I feel good and talking to my doctor one of my happy places is the playoffs. That's a good thing. So I do feel great, though."
Warriors coach Steve Kerr reached out to Lue to offer his best. Kerr missed time, including during last season's championship run, because of debilitating complications from a pair of back surgeries after the 2015 title.
Kerr said he spoke by phone and traded text messages with Lue.
"I just tried to share some of my experience when I was out last year," Kerr said. "The main message was you can't allow what feels like the enormity of the job to interfere with your health and your recovery and whatever you need to do. I just told him the team will still be there when you get back. But sometimes I think in this job, because there is so much passion from the fan bases and because everybody wants to win so badly, it feels bigger than it really is. So just kind of a reminder that we're playing a sport. Get better."