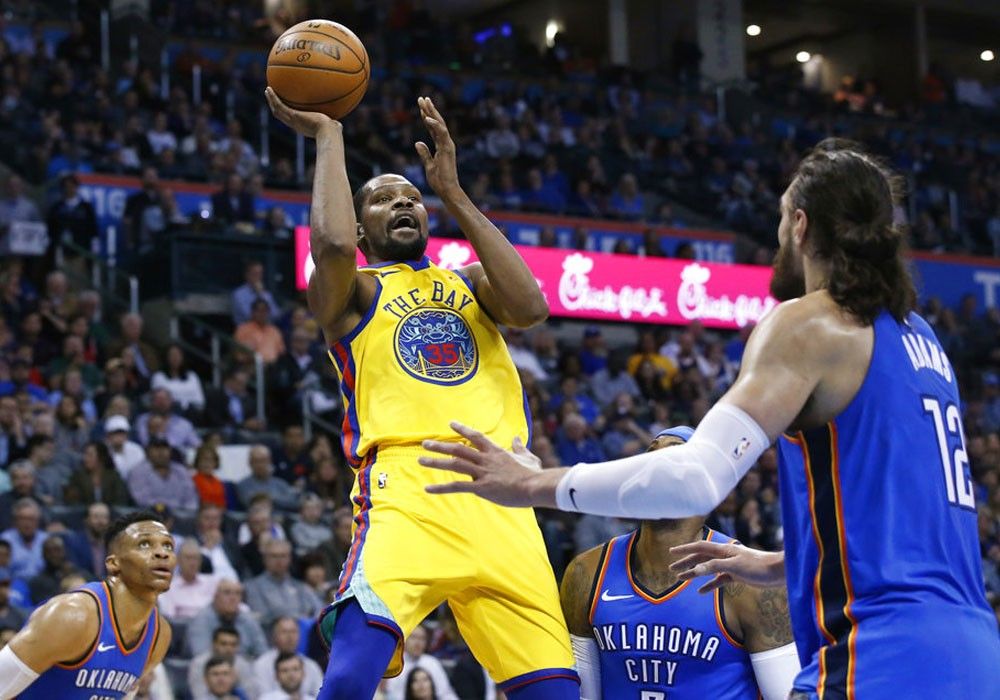 Golden State Warriors forward Kevin Durant (35) shoots between Oklahoma City Thunder guard Russell Westbrook, left, forward Carmelo Anthony, center, and center Steven Adams during the first half of an NBA basketball game in Oklahoma City, Tuesday, April 3, 2018.
AP Photo/Sue Ogrocki
Durant plays through boos, powers Warriors over Thunder
Cliff Brunt
(Associated Press) - April 4, 2018 - 11:13am
OKLAHOMA CITY — Kevin Durant scored 34 points while being booed throughout the game, leading the Golden State Warriors to a 111-107 victory over the Oklahoma City Thunder on Tuesday night (Wednesday Manila time).
Klay Thompson added 20 points for the Warriors, who evened the season series at two wins apiece despite guard Stephen Curry missing his sixth straight game with a left MCL sprain.
Russell Westbrook had 44 points and 16 rebounds, and Paul George added 20 points and eight rebounds for the Thunder.
Golden State led 107-103 when a steal by Westbrook led to a dunk by Corey Brewer with 20 seconds left. Quinn Cook made two free throws at the other end with 18 seconds to play.
Westbrook quickly scored a layup to make it 109-107, but Golden State's Draymond Green went to the line with 10 seconds left and made two free throws to put the game out of reach.
https://sja.sportradar.com/w/Philstar Global/12234880/403100
Durant scored 15 points in the first quarter, then added nine in the second to help the Warriors take a 57-47 advantage at the break. Thunder fans, still sore over Durant's choice to leave Oklahoma City for the Warriors in free agency after the 2015-16 season, booed him throughout the game.
Westbrook scored 18 in the first half to help the Thunder stay in the game.
Oklahoma City closed the gap, and a mid-range jumper by Westbrook tied the score at 76. A 3-pointer by Westbrook put the Thunder up 81-80. Westbrook scored 17 points in the third, but the Warriors rallied and took an 84-81 lead into the fourth.