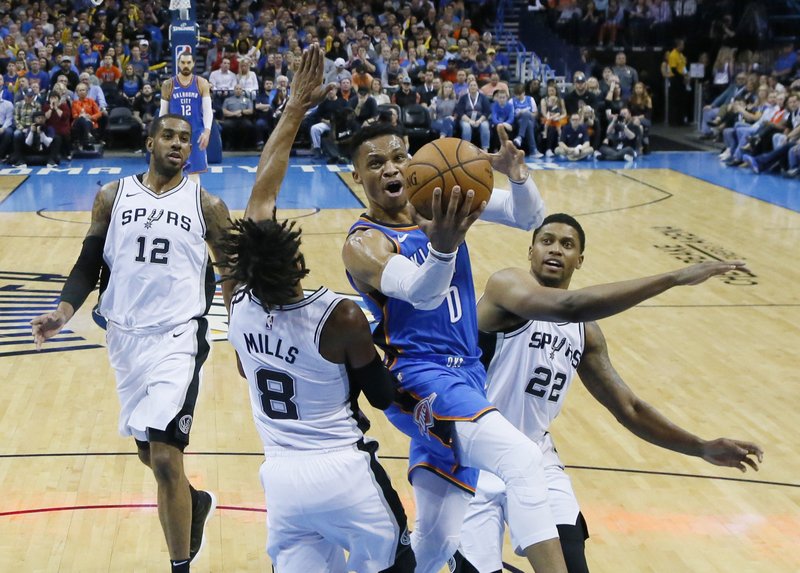 Westbrook's triple-double leads Thunder past Spurs
Cliff Brunt
(Associated Press) - March 11, 2018 - 12:30pm
OKLAHOMA CITY — Russell Westbrook scored 21 points and posted his 19th triple-double of the season to help the Oklahoma City Thunder defeat the San Antonio Spurs 104-94 on Saturday night (Sunday in Manila).
Westbrook had 12 rebounds and 10 assists in the 98th triple-double of his career.
Jerami Grant scored 15 points, Corey Brewer added 12, Paul George and Alex Abrines each scored 11 and Patrick Patterson had 10 for the Thunder. Nick Collison scored all seven of his points in six critical minutes in the fourth quarter for Oklahoma City, which improved to 6-3 since the All-Star break.
Rudy Gay and Davis Bertans each scored 14 points for the Spurs, who have lost eight of 10. LaMarcus Aldridge was held to 11 points on 5-for-16 shooting in the matchup between teams that are in the running for the No. 3 seed in the Western Conference.
Brewer's corner 3-pointer in the closing seconds of the first half gave the Thunder a 52-43 lead. He led Oklahoma City with 10 points before the break.
Thunder center Steven Adams came down hard on his left ankle early in the third quarter and did not return. Without his presence on both ends of the floor, the Spurs quickly took advantage and cut Oklahoma City's lead to 62-58. The Thunder recovered after a timeout and led 77-68 after three quarters.
Collison took over in the early part of the fourth quarter. He made a reverse layup to make it 82-70, drew the fifth foul on Aldridge with 7:41 to play, then scored in close a minute later to give the Thunder an 89-72 lead.
The Spurs cut their deficit to seven with about two minutes to play, but Westbrook clinched the triple-double on an assist to Grant for a 3-pointer that put the Thunder up 12.