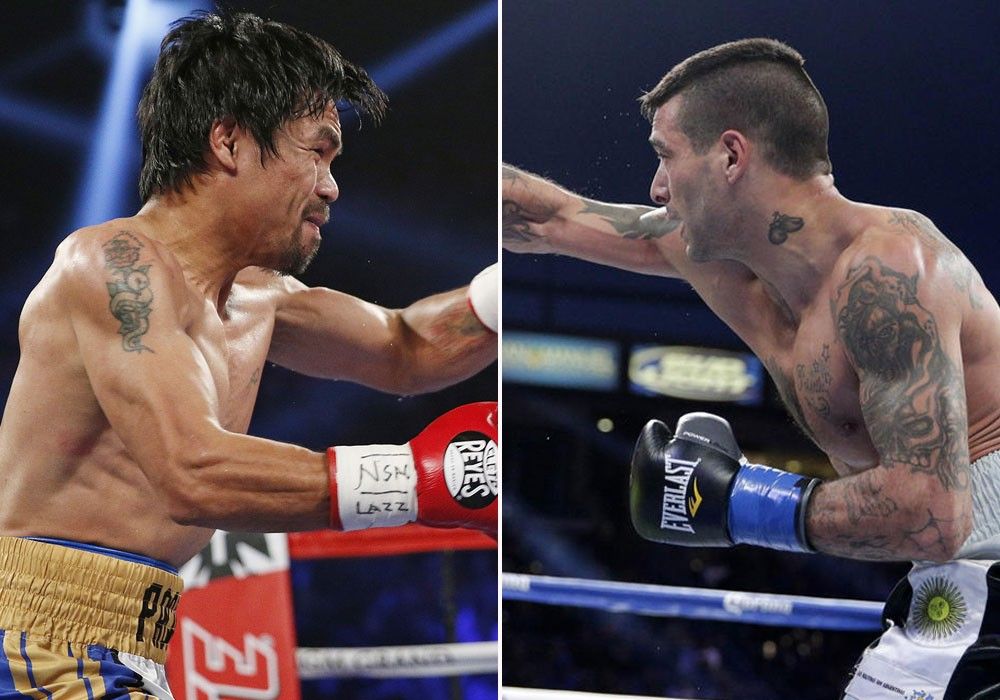 Manny Pacquiao and WBA welterweight champion Lucas Matthssye won't be fighting anytime soon.
AP photos
Arum explains why Pacquiao vs Matthysse fight won't happen soon
MANILA, Philippines – Top Rank Inc. chief Bob Arum recently took to social discussion website Reddit to interact with some boxing fans.
The veteran promoter was asked why Manny Pacquiao won't be fighting WBA welterweight champion Lucas Matthysse in his planned ring return this April.
The reason, Arum said, was simply the lack of communication between him and the Argentine fighter's camp.
"Well, because nobody's ever talked to Matthysse, about whether he's ready," said Arum.
Arum wants to keep everything in-house, instead preferring to pit Pacquiao against longtime contender Mike Alvarado, also a Top Rank-promoted fighter. Matthysse, in contrast, fights under Golden Boy Promotions, Top Rank's chief rival.
This comes even as Pacquiao has voiced out his preference to fight Matthysse, who knocked out Tewa Kiram last January to annex the vacant title.
"I think some writer asked if he'd [Pacquiao] want to fight [Matthysse], and he said yes," continued Arum, who instead plans to stage Pacquiao-Alvarado in the same card as the fight between Terence Crawford and recent Pacquiao conqueror Jeff Horn.
Matthysse, meanwhile, has repeatedly called out Pacquiao since defeating Kiram.
Arum, for his part, said Pacquiao and Matthysse could still cross paths sometime later.
"Would he [Pacquiao] fight Matthysse down the road? Why not?" added the promoter.
"But we were up against a deadline in April, so at that point not having talked to the opponent, it was a non-starter."