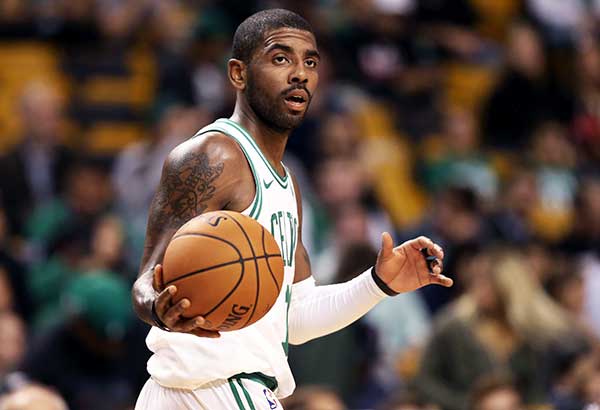 Irving leads as Celtics ward off Nets for 3rd straight win
(Associated Press) - January 1, 2018 - 10:09am
BOSTON — Kyrie Irving scored 28 points, Al Horford had 10 points and 10 rebounds and the Boston Celtics held off the Brooklyn Nets, 108-105, on Sunday (Monday Manila time).
Marcus Morris added 15 points, Terry Rozier scored 14 and Jaylen Brown finished with 13 points as Boston closed 2017 by winning three straight and four of five.
Rondae Hollis-Jefferson had 22 points and 12 rebounds and Caris LeVert scored 16 for the Nets, who could not overcome 10 turnovers in the second half.
The Celtics won their seventh straight against the Nets, although Boston didn't have the game in hand until Irving made a pair of free throws with 7.7 seconds remaining. Boston went the final 4:27 without a field goal and struggled from the foul line, going 13 of 21 in the second half and missing several opportunities to put Brooklyn away.
Wizards 114, Bulls 110
In Washington, Bradley Beal scored 17 of his 39 points in the fourth quarter, leading the Washington Wizards to a 114-110 win over the Chicago Bulls on Sunday.
Beal scored 15 straight points for Washington in the fourth as the Wizards rallied from an eight-point deficit early in the period. He also had nine rebounds and tied a career high with nine assists.
Nikola Mirotic scored 21 points to lead Chicago, which had won 10 of its previous 12. Kris Dunn had 19 points and 11 assists.
David Nwaba's two free throws with 1:26 to play gave Chicago a 108-107 lead, and Dunn hit a jumper with 54 seconds remaining.
John Wall's three-point play with 29.4 seconds left put the Wizards up 112-110. After Beal missed two free throws, Washington got the rebound and Wall added two free throws with 9.1 seconds to play.
Timberwolves 1?07, Pacers 90
In Indianapolis, Jimmy Butler had 26 points, six rebounds and five assists, and Minnesota never trailed against Indiana.
Karl-Anthony Towns had 18 points, 14 rebounds and six blocks, and Taj Gibson added 17 points and nine rebounds for the Timberwolves (23-14), who have won nine of the last 12 games.
Joe Young scored a career-high 20 points and Bojan Bogdanovic scored all of his 13 points in the third quarter as the Pacers (19-18) dropped their fourth straight, equaling their worst skid of the season. Indiana also lost four in a row in early November.
This time, the Pacers have been without guard Victor Oladipo, who averages a team-leading 24.9 points per game. He missed a third straight game with an injured right knee.