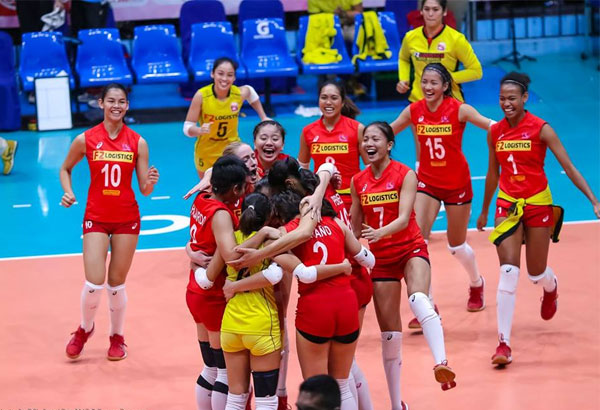 The F2 Cargo Movers celebrate after winning Game 2 of their PSL finals series against Petron. | Photo from PSL's Facebook
F2 shoots for historic comeback in PSL finals
(philstar.com) - December 15, 2017 - 7:51am
MANILA, Philippines – All Ramil de Jesus wanted was to put F2 Logistics back to the thick of the fight.
But little did he know that his team is on the brink of making history.
F2 Logistics chases history when it faces Petron in Game Three of the Chooks to Go-Philippine Superliga Grand Prix best-of-three finals series on Saturday at the Mall of Asia Arena in Pasay City.
The 4 p.m. battle has all the ingredients of a classic.
Since the PSL implemented a best-of-three finals format couple of years ago, no team has ever recovered from a 0-1 disadvantage, with Foton recovering from a Game Two meltdown to win the Grand Prix crown in 2015 and F2 Logistics averting a massive collapse to clinch the All-Filipino Conference title in 2016.
De Jesus team could be the first.
In Game One, the Cargo Movers were soundly beaten as the Blaze Spikers displayed the fluidity, the cohesiveness that made them a powerhouse.
Lindsay Stalzer and Hillary Hurley were at their best, hounding and pounding the Cargo Movers to submission to essay a masterful straight-set victory, sparking speculations that the Cargo Movers are all revved up to win the title.
Petron's momentum spilled over in Game 2 when it erected a 9-0 lead in the fourth set.
But a small miracle happened.
The Cargo Movers gained a sliver of hope as Aby Marano and Cha Cruz conspired to engineer an epic comeback. They managed to tie the count at 13 before claiming the fourth set, 25-19, to stretch the match to a decider.
It was all Cargo Movers from there as the vaunted floor defense and sizzling attacks of the Blaze Spikers started to conked out, robbing them of a chance to gain their second Grand Prix in four finals appearances.
"Maybe they (Petron) felt it was over," said de Jesus, the proud owner of 10 titles with De La Salle University in the UAAP.
"If you look at it, you may think that it's already over. But my team refused to quit. We managed to stay close in the fourth set to gain momentum in the fifth set."
De Jesus added that the series is still far from over.
"I think we already have the momentum," he said. "It's going to be an intense battle."
Petron coach Shaq Delos Santos feels sorry for their massive collapse, but beamed optimism over a golden chance to claim the title.
He said Foton had been denying them the crown for the past two years and there is no way for them to lose the title anew.
"It's not yet over," said Delos Santos. "We learned a lot in Game Two. And we will absorb those lessons to get better for Game Three."
Delos Santos said they want to avert a massive meltdown.
History is on their side.
But the Cargo Movers are out to rewrite it.