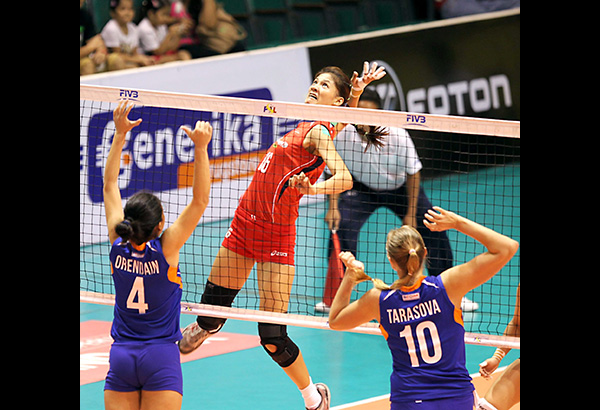 In this file photo, Santiago, who was playing for Petron, goes for a kill against Foton.
Dindin Santiago-Manabat set for comeback with Foton
(philstar.com) - December 7, 2017 - 3:02am
MANILA, Philippines – Barring any hitch or last-minute debacle, Dindin Santiago-Manabat will be making her return when Foton clashes with Sta. Lucia Realty in the quarterfinals of the Chooks to Go-Philippine Superliga (PSL) Grand Prix Thursday at the Filoil Flying V Centre in San Juan.
Foton head coach Moro Branislav said he would give Manabat some quality minutes on the floor to ease her back into action after missing eight months due to anterior cruciate ligament (ACL) injury.
Gifted with a rare mix of height, power and athleticism, the 6-foot-1 middle blocker is billed as one of best players in the country after leading Petron to a clean sweep of the All-Filipino Conference two years ago.
But she sat out last year after giving birth to a bouncing baby girl before joining Foton to be re-united with young sister Jaja Santiago.
She saw action in the Invitational Conference early this year, but suffered an ACL at the crucial stretch, prompting her to miss eight months of competitive volleyball and a couple of important international tournaments like the Asian Senior Women's Championship and the 29th Southeast Asian Games.
On Wednesday, she finally got her clearance to see action.
And Branislav vowed that the wait is worth it.
"I will try to give her some good minutes later in the game," said Branislav, the Serbian guru who steered the Tornadoes to a championship finish last year.
"But I can't put her in the starting unit or (ask her to) play long minutes. She missed a lot of volleyball because of her injury and we want her to be in good shape just in case we make it to the semifinals or finals."
Manabat's sister — Foton team manager Diane Santiago — said she is now in good shape and had been training with the Tornadoes for the past couple of weeks.
"She's now available play," Santiago said. "She got her medical clearance yesterday from Dr. (Raul) Canlas that she can now play."
With Manabat around, the Tornadoes will gain another solid blocker who can relieve the defensive pressure off prolific import Sara Klisura and Dragana Perunicnic.
Aside from that, she's also a fearless attacker, giving Branislav the luxury of moving Santiago back to the opposite while Manabat and Maika Ortiz take care of the middle spot.
"I hope there won't be any setback this time," Branislav said. "We're all excited and looking forward to have her back."