3 suspended UCLA basketball players working out on their own
November 29, 2017 | 2:50am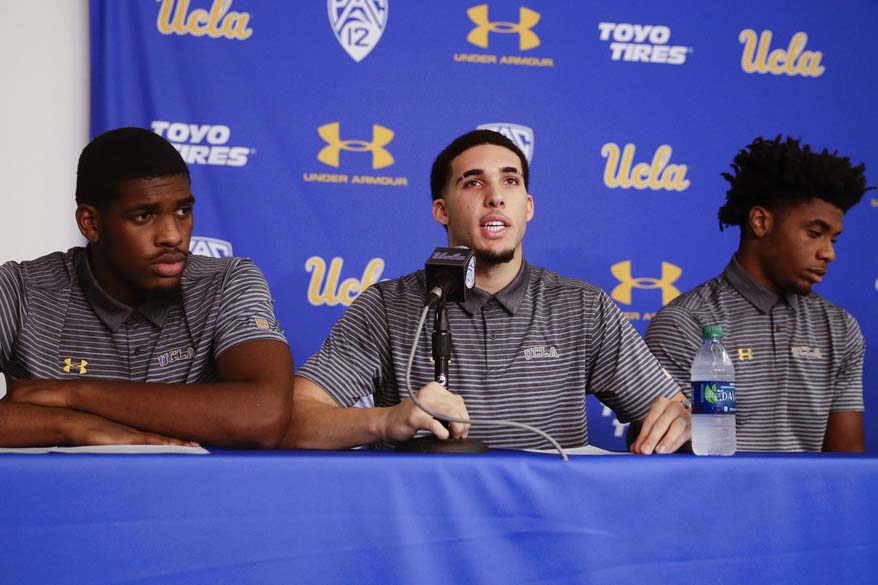 LOS ANGELES — UCLA's three suspended basketball players are working out on their own while they await a final decision on whether they'll be allowed to play for the Bruins this season.
Coach Steve Alford said Tuesday that he doesn't think "we're talking about months" regarding a timetable to decide the fate of freshmen LiAngelo Ball, Jalen Hill and Cody Riley, all of whom were detained for shoplifting in China earlier this month.
"It's really on the school," Alford said. "It's in that process now. When that process ends, I'm sure the administration will bring me in."
The players are subject to review for violating the university's Student Conduct Code, which includes a section on theft.
"I don't know all the ins and outs of how that takes place or the length of time. I don't think we're talking about months," Alford said. "We'll get feedback after that is over."
As part of their indefinite suspensions, the players aren't allowed to suit up, practice or travel with the Bruins, who are 5-1 and dropped out of the Top 25 this week. Ball, Hill and Riley publicly apologized for their transgression while reading prepared statements at a campus news conference on Nov. 15.
Alford said he and his staff are communicating with the players via text messages and calls, mostly to see if they are attending classes.
"Their focal point has been on academics because they missed a lot of class," he said. "The athlete part has been taken away, but the academic part has not. Without basketball, all your concentration can be on having the best quarter that you may have."
The players are allowed to use athletic facilities, including the weight room, but aren't working directly with the coaching staff, Alford said.
"We're letting them get their feet back on the ground," he said.
Video posted online last weekend showed Ball playing a pickup game against his 16-year-old brother LaMelo, who is being home schooled after being removed from high school by their father LaVar. LaMelo and his father sat courtside Monday night to watch oldest brother Lonzo play for the Los Angeles Lakers against the Clippers at Staples Center.
The Bruins host Cal State Bakersfield on Wednesday night during a stretch of four consecutive home games.