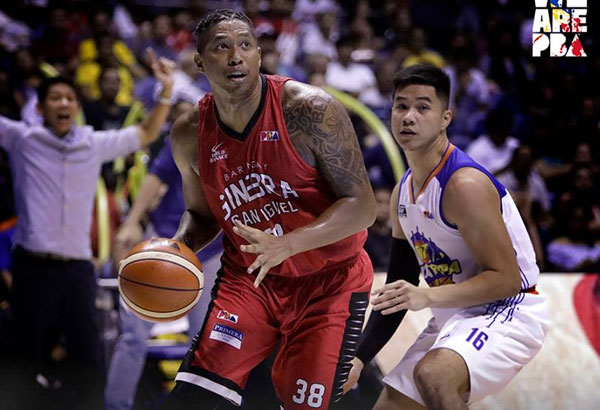 Barangay Ginebra's Joe Devance drives past RR Pogoy of TNT. | Photo from PBA's Facebook
Devance steps up as Ginebra wards off TNT for pivotal 2-1 lead
MANILA, Philippines -- Barangay Ginebra leaned on the heroics of Joe Devance to weather a pesky TNT side, 106-103, and take a crucial 2-1 edge in their PBA Governors' Cup semifinal series Friday night at the Smart Araneta Coliseum.
The longtime Tim Cone ward scattered 20 points to cap off a well-rounded performance that he spiked with four boards, four assists and two blocks. Most importantly, Devance clamped down on KaTropa's hot-shooting import Glen Rice Jr.
Rice had a chance to send the game to overtime with six ticks left on the game clock, but his 3-pointer from the left wing rattled out.
"Joe won it for us," said Cone. "He missed a layup in the end. It would've been smarter to hold on to it ... but he thought he had an easy layup. But he won the game for us."
"He made three, four plays before that act that really won the game for us," he continued.
Among the crucial plays Devance pulled off was thwarting a streaking Rice that led to multiple attempts from down low, and then a technical foul due to an offensive interference.
Rice led TNT with 44 points, 27 of which came in the first half.
The Gin Kings, meanwhile, also leaned on their free throw shooting, where they converted 30 of their 43 tries. Their foes made 12 of 14.
"We played our style, we played the way we wanted to play and I'm sure it's gonna be the same in Game Four," Cone offered.
GInebra will have a chance to end the series on Sunday, again at the Big Dome.
But Cone isn't taking chances.
"No lead is safe against TNT," the Grand Slam mentor closed.
The scores:
GINEBRA 106 – Devance 20, Slaughter 19, Thompson 17, Brownlee 17, Tenorio 16, Aguilar 8, Mercado 7, Ferrer 2.
TNT 103 – Rice Jr. 44, Castro 17, Semerad 10, Williams 10, Pogoy 7, Rosario 7, Golla 3, Reyes 3, Seigle 2, Nuyles 0, Tautuaa 0, Chua 0.
Quarters: 31-26, 60-49, 85-80, 106-103.