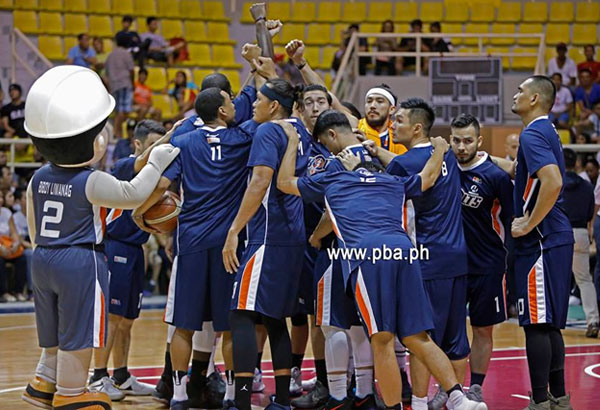 The Meralco Bolt in a huddle during their PBA Governors' Cup semifinals game versus the Star Hotshots. | PBA Images
Meralco Bolts fighting through season of adversity
(philstar.com) - October 6, 2017 - 7:54am
MANILA, Philippines – The Meralco Bolts are back in the finals of the PBA Governors' Cup. Just right back where they wanted and a chance to cop that elusive championship.
This is the third year of Norman Black's program to bring the Bolts to the pro league's elite. Everyone knows how they picked it up in the last three import-flavored conferences while bombing out of the All-Filipino tourneys.
If you ask me, there's this now… well, I wouldn't say never, but you have to win this now because championship windows aren't open too long before you have to reload.
Much to my surprise earlier, the Bolts traded away their youth (Jonathan Gray and Ed Daquioag), but they got a young stud in Garvo Lanete and a veteran frontcourt help in Ranidel De Ocampo. The outside shooting prowess of both Lanete and De Ocampo should help open up the lane for their inside operators (well, that's primarily Allen Durham and Cliff Hodge) and for their slashers (Jared Dillinger and Chris Newsome) to further cause damage or create.
And it's finally good to see Baser Amer play… like Baser Amer. I honestly believe that he's had a rough past two years beginning with his final playing year to San Beda to his first year and a half with Meralco. In fact, I think it is only in this Governors' Cup where his play has really picked up. Just in time because they need all hands on deck if they want to win a championship.
Watching this team from afar and up close, they had some pretty tough trials — BlackWater in the quarterfinals and the Star Hotshots in the semifinals. And well, whoever they face in the Governors' Cup Finals will be a tough nut to crack.
After the loss to BlackWater, the season came down to one game. Yet the Bolts dug deep.
In Game One against the Hotshots, they lacked rhythm and didn't look to have a good grip on the game. However, they stayed within striking distance. And in an ugly game more ways than one, they pulled out a win that well, could be the turning point — yes, they could look back at this game for Meralco bucked not only the tough squad of Chito Victolero but also internal dissent.
It was sad to see that ugly spat between Jimmy Alapag and Kelly Nabong play itself out in front of the entire country. When Kelly ripped that jersey while on the bench, I thought — wow, you're burning that bridge. The verbal joust earlier — that could have been fixed. Ripping the jersey? Now that was being disrespectful to the club and the company. I figured, that's it for you with this club especially since your contract is expiring.
Fortunately, for Meralco, they won that game and swept the series. Yes, it was a distraction, but they managed to put it behind them and more forward.
Backtracking a bit some, I felt sad because I liked Kelly. Covering the Bolts closely in these past two seasons, I have had many a conversation with the big guy. He can be thoughtful and really nice. But when this dark cloud hangs over him, everyone simply gets out of his way. Even his teammates cannot figure that out. He is talented though and they could sure use the big guy against whoever they will play in the finals.
However, that's now done. The team is fortunate enough to get in a few more days of rest for Durham and work on a game plan should they go up against Talk 'N Text or Barangay Ginebra. Especially the latter who I suspect will return as well into the finals for a rematch of epic proportions. They've got a deadly frontline and players who look every bit motivated to bag another championship before Christmas.
If the Bolts have their way, their name will be up in the lights this holiday season.