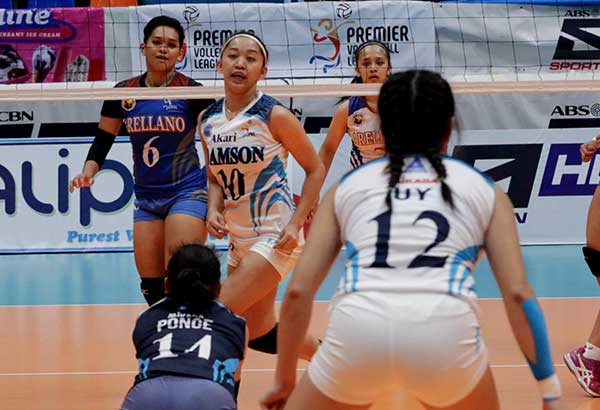 Adamson Lady Falcon Tonni Rose Ponce sets up the ball for teammate Lea Ann Perez (10) as Chrislyn Uy holds fort at the rear in their game against Arellano U yesterday in the PVL Collegiate Conference. ERNIE PENAREDONDO
Lady Falcons trim Lady Chiefs
Joey Villar
(The Philippine Star) - September 9, 2017 - 4:00pm
MANILA, Philippines — Adamson proved its giant-size five-set win over University of the Philippines was no fluke as it trounced NCAA champion Arellano U, 25-20, 25-22, 25-16, yesterday to seize the Group B lead in the Premier Volleyball League Collegiate Conference at the Filoil Arena in San Juan.
Jemma Galanza, who suited up for the Creamline Cool Smashers in the Reinforced Conference early this year, led the way with 18 points while setter Fen Emnas played as facilitator and dished out 29 excellent sets to help power the Lady Falcons to their second straight win and the No. 1 spot in Group B.
It was another strong effort for Emnas, who is back after sitting out the last UAAP season, after posting 43 excellent sets in Adamson's shock 17-25, 25-21, 19-25, 25-19, 15-9 win over the Lady Maroons a week back.
"We just did our best and worked hard," said Emnas in Filipino.
Eli Soyud struggled this time as she was held to just nine points after unleashing a 27-point effort the last time out.
Good thing Galanza stepped up big to save the day.
The Lady Chiefs skidded to second spot with a 2-1 mark.
Led by Galanza, the Falcons started out strong, built a comfortable lead before fending off a late fightback by the Lady Chiefs to take the opening set.
From a 17-all deadlock, Galanza and Soyud teamed up to help Adamson shatter the tie and snatch the second set and a chance to finish off Arellano.
It was Galanza's backrow kill that sealed the Lady Falcons' win in the second set.
Arellano U was never the same again as Adamson dominated the third set to seal the deal.
In men's action, defending champion Ateneo overpowered Santo Tomas, 25-21, 25-17, 25-18, to remain unscathed.
Marck Jesus Espejo paced his team with 17 points while Canciano Llenos added 10 hits to lift the Eagles, who are also the reigning UAAP titlists, to their third straight victory.
"We just want to win as many games as we can," said Ateneo coach Oliver Almandro.
The Tigers, who were led by Joshua Umandal's 13 points, fell to a share of second with the Far Eastern U Tams, who downed the La Salle Archers, 25-23, 25-19, 23-25, 25-18, with 2-1 records.
John Paul Bugaoan unloaded 17 hits while Redijohn Paler, Richard Solis and Jude Garcia scattered 14, 13 and 11 points. La Salle slid to 1-2.
Far Eastern U slew Ateneo, 17-25, 25-21, 25-19, 25-14, to grab the solo lead in Group A with a 2-0 record.
The Lady Eagles fell to 1-1.