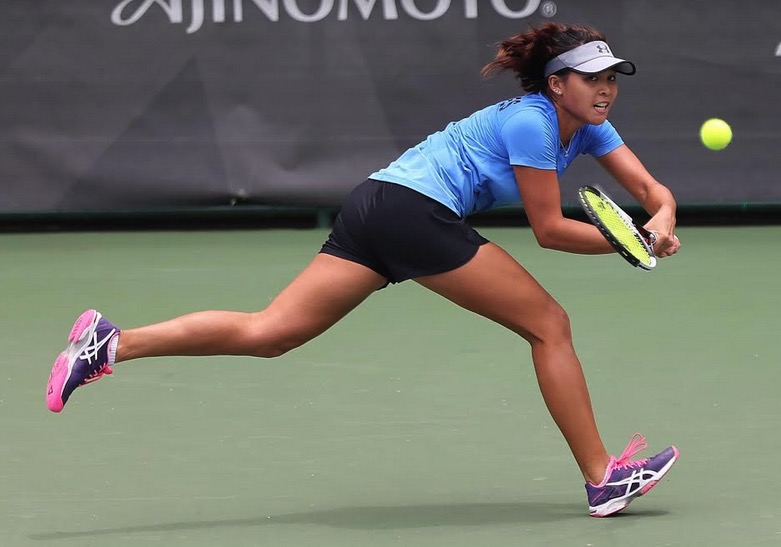 "I was nervous because I was playing against the tournament top seed," said the 23-year-old Patrimonio, who survived fourth seed Andrea Ka of Cambodia to reach the championship round. Pool Photo
Patrimonio yields to Thai top seed, settles for silver
Gerry Carpio
(The Philippine Star) - August 26, 2017 - 4:00pm
KUALA LUMPUR – A jittery but determined Anna Clarice Patrimonio lost to Thai champion Luksika Kumkhum in final duel delayed by the rains for 40 minutes, 6-0, 6-1, to settle for the silver at the close of the Southeast Asian tennis competitions at the National Tennis Centre on Jalan Duta yesterday.
"I was nervous because I was playing against the tournament top seed," said the 23-year-old Patrimonio, who survived fourth seed Andrea Ka of Cambodia to reach the championship round.
Kumkhum, No. 180 in the world, was a member of the women's team that won the gold in the 2015 Singapore SEA Games.
"I am happy to win," said Kumkhum, who also won the women's doubles gold with Noppawan Lertchiwakaran on Friday.
The Philippine tennis team won its first silver from the men's doubles
pair of Francis Casey Alcantara and US-born Filipino Ruben Gonzales, who lost to many-time champion Sonchai and Sonchat Ratiwatana of Thailand, 4-6, 6-2 (7-10) on Friday.
The Filipino netters also had two bronze medals coming from Filipino-Americans Ruben Gonzales and Denise Dy in the mixed doubles, and Filipino-German Katharina Lehnert and Dy in the women's doubles on Thursday.
The Philippines won one gold, three silvers and four bronzes in Singapore.
Dy and Filipino-American Treat Huey won the mixed doubles gold while the three silvers were from the women's doubles (Dy and Lehnert), Gonzales and Jeson Patrombon (men's doubles) and the women's team (Dy, Lehnert, Patrimonio and Khim Iglupas). The bronze medalists are Lehnert (women's singles), Patrombon (men's singles), Alcantara and Huey (men's doubles) and the men's team (Huey, Alcantara, Gonzales and Patrombon). (PNA)