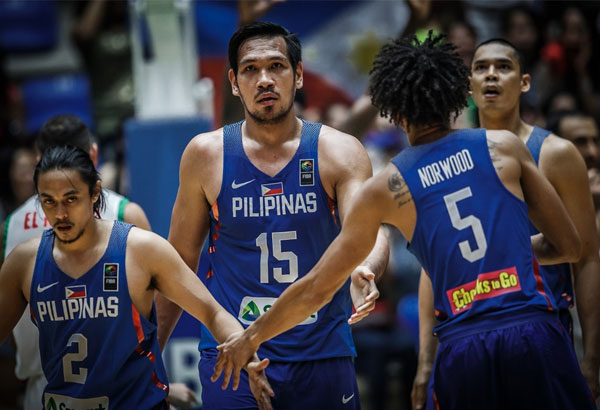 Sans Christian Standhardinger and Andray Blatche, and with June Mar Fajardo playing half-healthy, Gilas found no answer to the heftier Lebanese. | FIBA.com
Sans Standhardinger, Gilas gets crushed by heftier Lebanese
(philstar.com) - August 20, 2017 - 1:43am
MANILA, Philippines – With Christian Standhardinger rushing over to Kuala Lumpur, Gilas Pilipinas proved short practically on all fronts and dropped an 87-106 loss to host Lebanon in the penultimate day of the 2017 FIBA Asia Cup in Beirut, Lebanon.
Minus their top rebounder and defender, the Filipinos found it hard to match up with the taller and heftier Lebanese and reeled to a second straight loss that relegated Team Phl to a fight for seventh place with Jordan.
Earlier in the day, deposed champion China overpowered Jordan, 86-55.
The Chinese and the Lebanese slug it out for fifth place at the close of the 12-day, 16-nation meet Sunday.
Sans Standhardinger and Andray Blatche, and with June Mar Fajardo playing half-healthy, Gilas found no answer to Lebanese super star Fadi El Khatib, who erupted for 36 points.
Naturalized player Norvel Pelle collected 23 points and 13 rebounds while gunner Nadin Souaid contributed two triples and a total of 11 markers as they frustrated the Filipinos and their fans that engaged the home crowd in a cheering and jeering battle.
The crippled Philippine side proved no match on the playing court, suffering a second straight blowout loss following an 86-118 rout by South Korea in the quarterfinals.
El Khatib was unstoppable, going 10-of-19 from the field and 13-of-16 from the stripe while also delivering eight assists and six rebounds in 37 minutes of action.
Like the Koreans, the Lebanese hit a high clip and dominated the Filipinos from start to finish to avenge their loss in their battle in Changsha in 2015.
The Filipinos had some bright moment in the second quarter when they rallied to within five after falling behind by 19 early at 18-37.
El Khatib threw his weight around right in the first half, powering his way to 14 points right in the opening quarter then adding eight in the second period.
The ageless Lebanese warrior and his teammates got more field goal attempts as they beat the Filipinos in rebounds, 23-14, in the opening half.
And as they hit at a high 55.8 percent clip, the Lebanese stormed their 37-18 spread before the Filipinos started to get into the groove and rallied to within five, 42-47, before the halftime break.
The Nationals got off to a poor start with the starting combination of Fajardo, Japeth Aguilar, Calvin Abueva, Jason Castro and Matthew Wright.
The scores:
Lebanon 106 – El Khatib 36, Pelle 23, Souaid 11, Haidar 9, El Nour 9, Saoud 8, Mezher 6, Bawji 4, Tabet 0.
Philippines 87 – Romeo 19, Castro 13, Fajardo 13, Wright 12, Cruz 8, Aguilar 6, Pogoy 5, Norwood 4, Abueva 3, Jalalon 2, Almazan 2.
Quarterscores: 29-18, 50-42, 75-61, 106-87