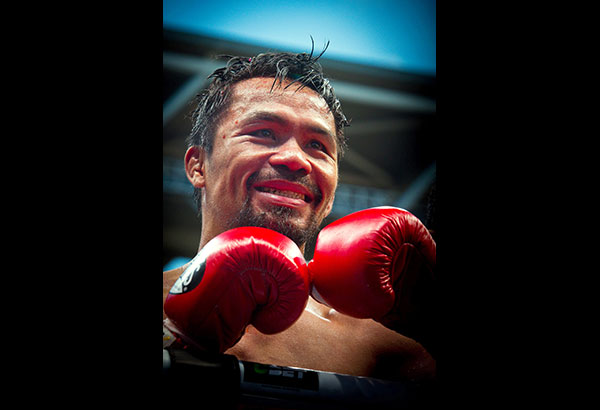 Manny says he will not quit boxing
MANILA, Philippines - On social media, Manny Pacquiao yesterday has practically announced that he will continue fighting despite calls for him to quit boxing – permanently.
"I love this sport and until the passion is gone, I will continue to fight," he told his 3.9 million followers on Instagram.
Pacquiao also issued a statement yesterday regarding the issue on the non-payment of trainer Freddie Roach's salary 10 days after the fight in Brisbane.
"I have no problem with coach Freddie Roach. I'm not the one paying him. It's Bob Arum. The trainer's fee is automatically deducted by Top Rank from my purse," said Pacquiao.
"So, if coach Freddie has not yet received his payment, we are on the same boat. My purse has not yet been released by Arum," he added.
An article that came out of Sports Illustrated the other day hinted of a possible rift between Pacquiao and Roach.
"I really don't know if he's mad at me," Roach said in the article.
However, the American trainer said if Pacquiao decides to continue to fight, he would let him have one more bout.
"I would give him the benefit of the doubt and let him have one more. I would," he said.
Pacquiao said his promotional contract with Top Rank has ended, and insiders said the Filipino boxer has no plans of renewing his ties with Arum's firm.
"Last fight ko na yun sa Top Rank (contract)," Pacquiao said.
Pacquiao's personal adviser, Michael Koncz, said the decision should come in a few weeks, whether Pacquiao really wants a rematch against Horn.
Koncz also clarified recent statements attributed to Pacquiao concerning the WBO review of the fight at the Suncorp Stadium.
"Manny and I both agree that the fight was close and that Jeff Horn deserves credit," he said.
Pacquiao said on top of the ring, just moments after the bitter loss, that "It's part of the game" and "I respect the decision of the judges."
In a minute, Pacquiao's Instagram post drew hundreds of comments, from those urging him to continue boxing or seek a rematch with Jeff Horn to those calling for his retirement from the sport.
"Your real fans are here for you, Manny. No matter what you decide, your legacy will remain," said one of his followers.
"Keep on going," said another.
Still, there are those who'd rather see the 38-year-old superstar move on with other things in life, including that of being a senator.
"No need to prove anything. You're one of boxing's greatest boxers. It's time to hang up your gloves and concentrate on your public service," said one.
"Take care of your health. Don't sacrifice your health by bringing home the honor to our country and to the people," was another comment.
He yielded his WBO welterweight crown against the former schoolteacher in Brisbane. It was a close and controversial call that sparked a howl of protest.
The day after the "Battle of Brisbane," Pacquiao had already signified his intention to exercise the rematch clause in his fight contract with Horn.
Pacquiao said he could have done better if he had not forced himself scoring a knockout.
"Mali (Mistake)," said the eight-division champion.