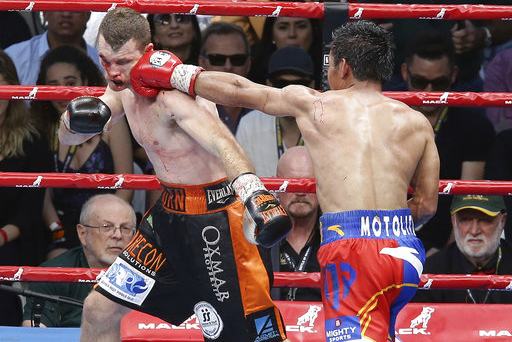 Jeff Horn, left, of Australia and Manny Pacquiao of the Philippines fight during their WBO World welterweight title bout in Brisbane, Australia, Sunday, July 2, 2017. Pacquiao lost his WBO welterweight world title to Horn in a stunning, unanimous points decision in the Sunday afternoon bout billed as the Battle of Brisbane in front of more than 50,000 people. | AP Photo/Tertius Pickard
GAB protests Pacquiao-Horn fight, wants 'thorough' review
(philstar.com) - July 3, 2017 - 9:33am
MANILA, Philippines — The Games and Amusements Board (GAB) on Monday called on the World Boxing Organization (WBO) to conduct a review on the officiating in Manny Pacquiao's fight with Jeff Horn.
In a letter addressed to WBO president Francisco Valcarcel, GAB said they want to echo the stand of boxing followers on Australian Jeff Horn's victory over Manny Pacquiao.
"While we respect the decision, we are constrained to request for a thorough review by the WBO for possible miscalls of the referee where some deductions were not made and of the judges in their judging that have caused varying opinions on their objectivity," the letter read.
The judges scored the 12-round bout in favor of Horn, who came away Pacquiao's WBO welterweight championship.
This despite Pacquiao landing more punches, 182-92, according to CompuBox numbers.
Marc Nelson served as the referee of the match while Waleska Roldan, Chris Flores and Ramon Cerdan completed the panel of judges.
Horn, for his part, defended his win over the 38-year old Pacquiao.
"I thought I managed to get the decision but it was close. I thought it would be more of a knockout if I was going to win this fight," the former teacher said.
Talks of a posssible rematch floated immediately after the bout, and both fighters said they are open to the idea.