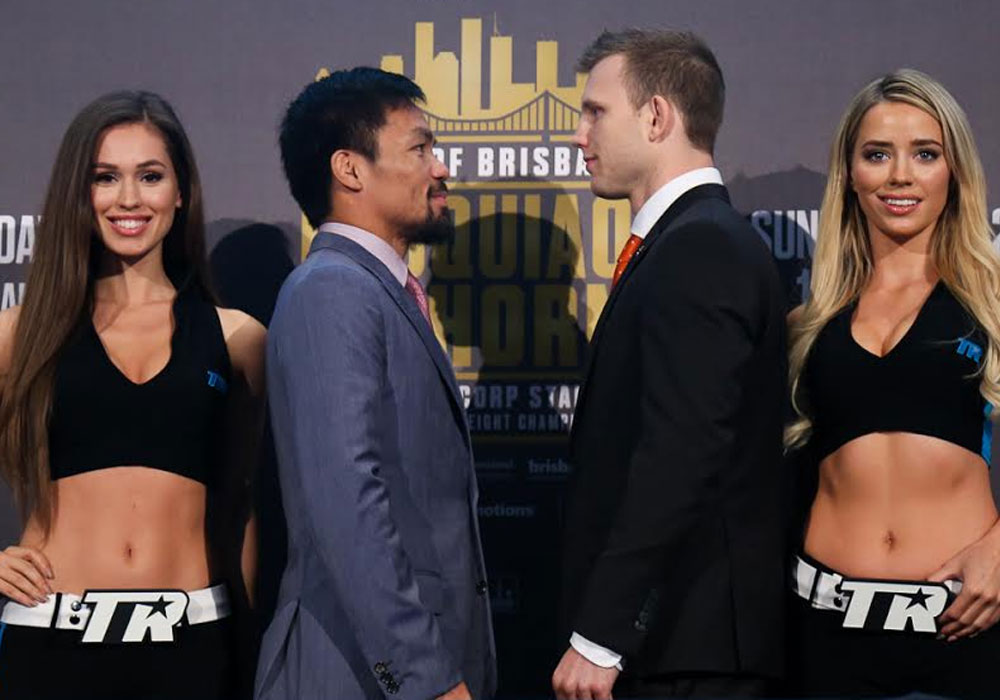 Manny Pacquiao and Jeff Horn engage in a traditional staredown. | Wendell Rupert Alinea
Pacquiao warned of Horn's left hand, too
BRISBANE, Australia – Jeff Horn has got more than just a powerful right straight, and Manny Pacquiao better keep that in mind.
Horn's trainer, Glenn Rushton, warned the Filipino icon that the 29-year-old challenger to his WBO welterweight title is also a two-fisted fighter.
"Pacquiao might be too focused on Jeff's right hand that he might forget his left," the outspoken Rushton said as he supervised Horn's public workout Thursday at a plaza across a shopping street in this city.
Horn's camp had been emphasizing how the overhand right will play a key role against Pacquiao on Sunday at Suncorp Stadium.
It is the punch Pacquiao, a southpaw, is most vulnerable to, and it is the same blow that Juan Manuel Marquez employed to knock him out.
Horn has vowed to pull a page out of Marquez's book when he tries to dethrone the Filipino.
"I think he (Pacquiao)'s gonna be haunted by that knockout by Marquez," added Rushton.
But Rushton, a wealthy investment banker who happens to have a background in martial arts, stressed that his ward possesses power on both hands.
"He (Horn)'s got dynamite in the right, and TNT in the left," said Rushton.
He sees Horn using either hand to take Pacquiao out, somewhere between the seventh and 11th rounds.