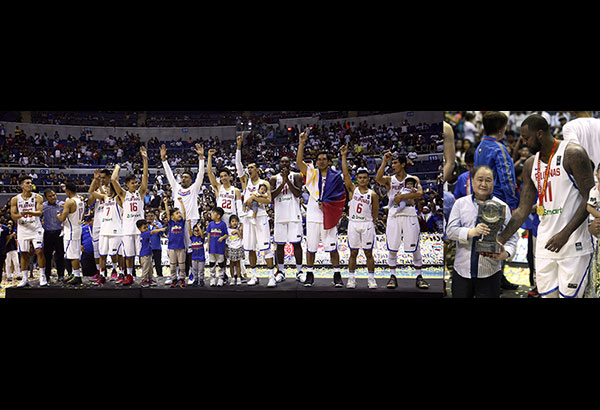 Officials and members of Gilas Pilipinas, led by national coach Chot Reyes, second from left, and their children, celebrate their SEABA Championship sweep at the Smart Araneta Coliseum, beating Indonesia in the final game, 97-64. Right photo shows Manny V. Pangilinan, SBP chairman, display the SEABA trophy with naturalized player Andray Blatche. MIGUEL DE GUZMAN
Comes now real test for Nationals
MANILA, Philippines - Now the hard part begins.
After ruling the SEABA Championship, Gilas Pilipinas now faces the tough task of finding ways on how to keep the team together again for a series of FIBA events that runs in conflict with the current PBA season.
"It's going to be a challenge. It's going to be difficult so we have to sit down and put our heads together to find a way, find the best possible solution and the best possible scenario," said Gilas coach Chot Reyes, after steering Gilas to a sweep of SEABA tilt for a spot in the Asian World Cup qualifying event.
"I think we have a good group with a potential to be real strong team, but I also understand there are other interests and other needs that prevail," Reyes added.
Samahang Basketbol ng Pilipinas president Al Panlilio is hopeful though they can make an arrangement with the pro league since they have the national team.
Reyes is also banking on the support of PBA commissioner Chito Narvasa.
"Commissioner Narvasa has been with us every step of the way (in SEABA). He attended two or three practices and he has been to every ball game. He consistently told us he's behind the program and the team," Reyes said.
Still, Reyes is realistic putting a plan for Gilas moving forward is dependent on what the SBP and the PBA will agree on.
"The only thing we know is that we have a cadet program in place. Other than that, it all depends on the discussions and meetings that are going to happen," said Reyes.
Players in the Gilas cadet program that made it to the SEABA team are Jio Jalalon, RR Pogoy and Matthew Wright. June Mar Fajardo, Japeth Aguilar, Raymond Almazan, Calvin Abueva, Troy Rosario, Jayson Castro, Allein Malicsi and Terrence Romeo are Gilas additionals courtesy of their respective PBA mother ball clubs.
"Now that the SEABA is over and we know that we're going to the World Cup qualifier, we can sit down and put the plan together. But we all know that it's not going to be simple as there are a lot of schedules and things to consider," said Reyes.
FIBA has set the initial window periods of WC qualifying event in November, in February and in June – dates where the PBA is in crucial stages of its own tournaments.
Gilas' first assignment in the Asian WC qualifier is Japan on Nov. 24, then Chinese Taipei on No. 27, Australia on Feb. 22, Japan on Feb. 25, Taipei on June 29 and Australia on July 2.
Aside from making the Asian WC qualifier, Gilas also earned a spot in the FIBA Asia Cup in Beirut in August with its SEABA championship run.
A possible warm-up tournament for Gilas for the Beirut event is the Jones Cup in Taipei in July.
Reyes admits the SBP and the PBA have to be creative in resolving conflicts in the schedules.
Panlilio said the FIBA competition dates are not much of a problem, but the period of time for the preparation.
"But we may just choose the most important events to get a consensus with the PBA," said Panlilio.
The other national cage federations are in a quandary because of FIBA's shift to a new format and new calendar.
"It's not only us that's battling that. The same is true with the US. In fact, USA Basketball has already said that it is the (NBA) D-League that's going to play, not the NBA players," said Reyes.