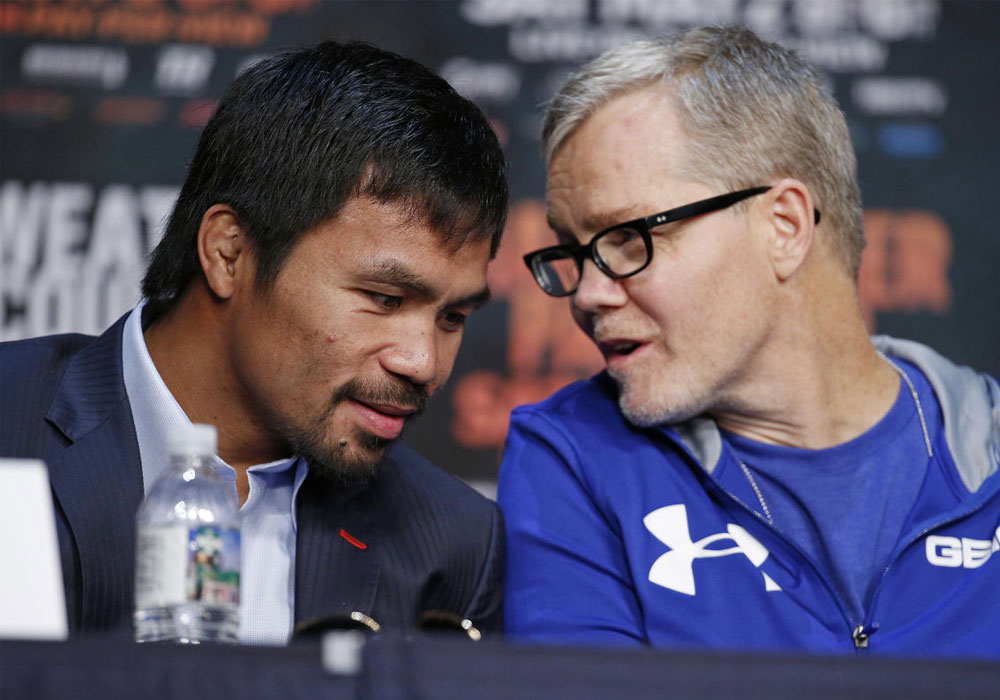 Manny Pacquiao and Freddie Roach | AP
Roach sees Horn fight as a 'tune-up' for Pacquiao
MANILA, Philippines – Freddie Roach sees Manny Pacquiao's upcoming fight with Jeff Horn as an opportunity for the Filipino icon to shed ring rust.
Speaking recently to boxingscene.com, Roach seemed to be more inclined to look beyond the Horn fight on July 2, saying he prefers Pacquiao to take on undefeated lightweight champion Mikey Garcia.
"[Horn is] a good fight to see where he's at and who's gonna be next. The thing is, it's kind of a tune-up fight for us and who he has next," said Roach.
The bespectacled trainer then mentioned that there is interest from Garcia's camp for a fight with Pacquiao.
"Mikey Garcia's brother came to me the other day and said to me 'will you fight my brother?' I said 'sure.' I love that fight. I don't make the final decisions, but it's a possible future fight," he added.
Pacquiao will defend his WBO welterweight title against Horn, a heavy underdog, at the latter's hometown in Brisbane, Australia. He has insisted that he won't take the 29-year-old Horn lightly.
Roach, for his part, views Horn as a stay-busy bout for his prized ward.
"That's what we're looking for right now, a tune-up fight and then on to bigger and better things," he continued.
Apart from a showdown with Garcia (36-0, with 30 KOs)—currently the WBC lightweight champion—Pacquiao's camp is looking at a date with British star Amir Khan later this year.