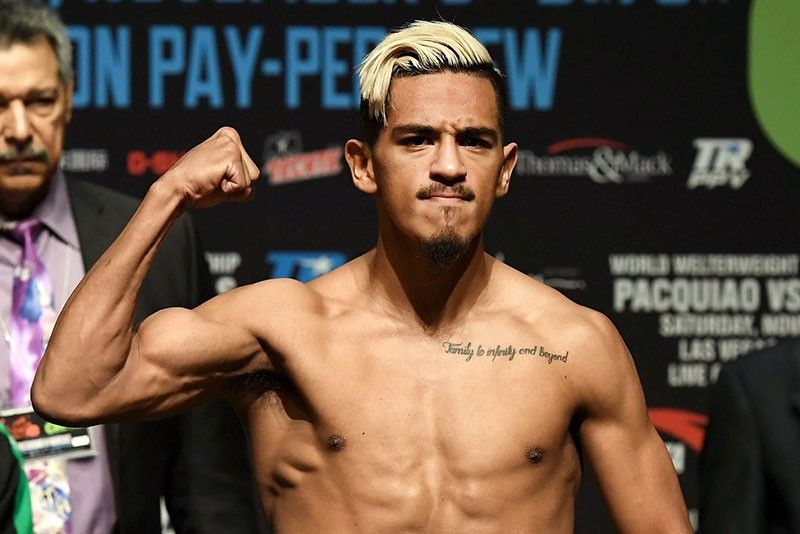 Magdaleno rejects Donaire rematch
MANILA, Philippines - WBO superbantamweight champion Jessie Magdaleno has reneged on his promise to give Nonito Donaire Jr. an immediate rematch and called the Filipino Flash a sore loser in a 360 degree reversal from his display of respect right after winning the title on a disputed decision in Las Vegas last November.
Donaire, 34, said he never expected Magdaleno to turn arrogant so soon after wresting the crown. In a social media rant, Magdaleno said, "I don't need to fight you right now, I don't need anything from you, dude … I can get better paydays from other great potential fighters … there are bigger and better matches than you … you're old now, everyone sees it." Yet, during the medical check-ups in the dressing room after their fight, Magdaleno praised Donaire as a "great champion" and promised an immediate rematch.
Donaire said he met Top Rank president Todd Duboef, Top Rank vice president for business and legal affairs Harrison Whitman and his manager Cameron Dunkin in Las Vegas the other day to discuss plans for the rematch. But Magdaleno later said he wants nothing to do with Donaire.
"I'm training now because I was aiming for the rematch," Donaire told The Star in an interview from his Las Vegas home. "Unfortunately, Magdaleno has come up with the excuse that I didn't have a rematch clause. He was the mandatory challenger so there was no room to negotiate really anything. Instead of fighting me again and making more money in a rematch, he'd rather take an easy fight. He claims he'll fight someone for more money but when I challenged him to give me a name in the WBO rankings, he evaded the question."
Donaire said he knew all along Magdaleno would exercise all options to duck a rematch. "He told me he'd give me a rematch during the medicals," said Donaire. "Now, he's back-pedalling." A move up to the featherweight division as an alternative isn't timely, he added. "I need more time to move to 126," noted Donaire. "When I met with Todd, Harrison and Cameron, I was 128 pounds that morning. I need time to build lean muscle mass and not just heavy fat."
Donaire was recently picked by the WBC to participate in a stepladder elimination series for the vacant 122-pound title relinquished by Hozumi Hasegawa but the process will mean a long wait. The first step is No. 1 Rey Vargas of Mexico will face No. 2 Gavin McDonnell of the UK in Yorkshire on Feb. 25. Then, the winner will stake the crown against the survivor of an eliminator between No. 3 Hugo Ruiz and No. 4 Julio Ceja. The winner moves on to put the title on the line against the survivor of another bout between No. 5 Anselmo Moreno and No. 6 Donaire. "Top Rank refused to explore the WBC option as it was three fights to the title," said Donaire.
The other superbantamweight champions whom Donaire could target are IBF titlist Yukinori Oguni of Japan and WBA ruler Nehomar Cermeno of Venezuela. However, Cermeno has signed to defend his crown against Japan's Shun Kubo in Osaka on April 9. Oguni, 28, beat the Dominican Republic's previously unbeaten Jonathan Guzman for the IBF title in Kyoto last Dec. 31 and has not set a first defense.
"For whatever his excuse and reason, I went for the rematch especially after he agreed to it after our fight in the medicals," said Donaire. "I have constantly tried to create a legacy of my own. Through wins and losses, I have tried to give my fans the best fights but I have to have a willing opponent who doesn't run from the opportunity to create great fights which are worth watching. Until we find the next opportunity to fight, I want to thank my team, family, friends and fans for supporting me in my endeavors in my boxing career. I give major respect and props to those fighters who are willing to put a title freshly won right back on the line in a rematch for the greatness of boxing. Those like Santa Cruz/Frampton, Pacquiao/Marquez, Marquez/Vazquez and even Bradley/Pacquiao could have walked away with the title and fought easier opponents but they all wanted to prove their greatness."
Magdaleno lashed out at Donaire, saying, "I don't need your respect or anyone else's, I earned this title and it isn't going anywhere (and) it stays with Team Magdaleno so stop with the crying, it's getting old." He added, "you should've beaten me when you had the chance (and) you shouldn't have overlooked me."
Donaire said Magdaleno is scared out of his wits because he knows he only got lucky last November. "Magdaleno can't do it again and that's what he's running from," he said. "That's what he's afraid of. As the mandatory, he didn't agree to any of my demands. That's why he stood in the medicals in front of everyone, saying he respects me enough for a rematch. He can't replicate that win. It scares the crap out of him that his own promoters know he'll decline a rematch."