Fond memories of Vic Silayan
August 14, 2015 | 10:00am
Young actor dead drunk 39,000 feet above sea level
On a flight to the US, a young actor was so dead drunk that he lingered at the lavatory until the plane was about to land. Why? "He threw up from taking too much alcohol," related the Funfare DPA, the actor's co-passenger. "His eyes were blood-red when we landed. He has such a wholesome image so I was surprised to see him that way," added the DPA. "Throughout the flight, he was pa-touch-touch his leading lady who was with him on the plane."
On another (domestic) flight, the actor also misbehaved. He tried to use his e-cigarette but the flight attendant confiscated it.
Moral of the story? Next time he flies, the actor should stay away from the bottle and leave his e-cigarette at home.
* * *
The invitation to a recent lunch at the Spiral of Sofitel was for an interview with Ren Silayan (who was with his wife Felici) whose company, Allied Metals which has just celebrated its 50th anniversary.
Allied Metals, which is the pioneer of stainless kitchen in the Philippines, was started by Ren, now into his mid-80s, at the two-car garage of the Silayan home in Potrero, Malabon. Now it has a well-equipped plant in Bulacan with more than 100 employees.
More than the success story of Allied Metals, what the movie writers happily learned is that Ren happened to be the brother of Vic Silayan, the renowned all-around actor (radio, theater, TV and film) who is immortalized in many movies, including Portrait of the Artist As Filipino (recently re-mastered, directed by Lamberto Avellana) and Kisapmata (directed by Mike de Leon, based on Nick Joaquin's Free Press article The House on Zapote Street, also starring Charo Santos, Charito Solis and Jay Ilagan).
The topic inevitably turned from Allied Metals to the Silayan siblings. The brothers pursued different interests…Vic into arts and Ren into business.
"He did try to invest in our business," fondly recalled Ren. "He issued a check for P10,000 but it didn't clear. He didn't know what money was but he knew friendship very well. He wasn't rich in material things but he was very, very rich in friends."
Ren said that Vic would often visit him at his office in the morning and he would talk to Ren about everything under the sun, including about duwendes.
"Then, he would say, 'Alaw ako erap,' meaning he didn't have money. In the afternoon, he would return to my office with a big smile. 'May pera na ako.' It would turn out that he just came from a shoot at binayaran na siya."
It was obvious that Ren is mighty proud of Vic. During business trips to the US, executives of plants that he would visit would ask him, "You are the brother of Vic Silayan, aren't you?" The company presidents would be pleasantly surprised to learn how popular Ren's brother was.
Asked what his fondest memory about Vic was, Ren recalled the time he visited Vic at the DZRH station where Vic was starting to work as an announcer.
"I was in second year high school at that time," said Ren. "He played a recording for me. 'Gusto mo turuan kita?,' he asked me. 'Halika sa toilet.'" There, Vic floored Ren with his rich baritone that became his trademark as a great actor.
Incidentally, Allied Metals has supplied total kitchen systems for several establishments, including (aside from Sofitel Philippine Plaza), City of Dreams Manila, the Excelsior Hong Kong, InterContinental Abu Dhabi, the Canlubang Golf & Country Club, Nestlé Philippines, Via Mare and almost 1,000 Jollibee branches.
* * *
Let's start with the happy news:
With a baby bump, Marian Rivera could possibly be the sexiest expectant mom in the world.
Her pictures with husband Dingdong Dantes are proudly posted on social media, taken during their recent vacation in Amanpulo, Palawan, as a joint birthday celebration (Dingdong's on Aug. 2 and Marian's Aug. 12).
Six years ago, the then sweethearts also spent a vacation in the exclusive resort (favorite of Hollywood stars and other world celebrities including Bill Gates). This time, there were three of them including the baby girl Marian will deliver in November, barely a month before they celebrate their first wedding anniversary (Dec. 30). The girl will probably have two or three names, one of them Maria.
And now, the sad news: Mariel Rodriguez has suffered another miscarriage last Wednesday, Aug. 12, losing what could have been her and husband Robin Padilla's triplets that already had names, Juan, Maria and Gabriela.
Mariel was seven weeks pregnant, just like last March when she had the first miscarriage.
Next time she gets pregnant, maybe Mariel and Robin should stop announcing it promptly on social media to avoid undue stress, and keep the thrill to themselves until it's safe to tell the world about it.
Robin backed out of Nilalang, his 2015 Metro Filmfest starrer with Japanese adult-video actress Maria Ozawa, because he said he wanted to take care of Mariel who was experiencing a delicate pregnancy.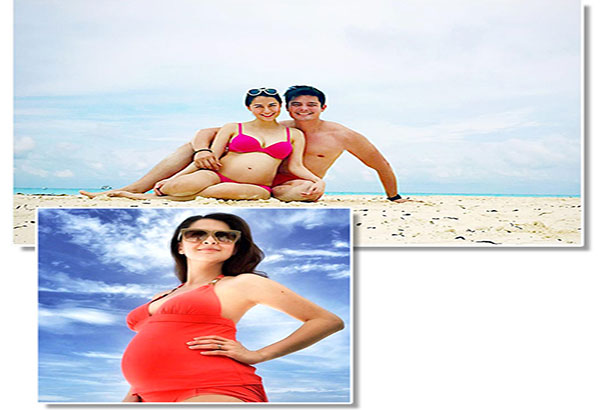 These photos of Dingdong Dantes and wife Marian Rivera are from the couple's Instagram accounts
Marian 'Sexiest Expectant Mother of the World'
(E-mail reactions at [email protected] You may also send your questions to [email protected]. For more updates, photos and videos visit www.philstar.com/funfare or follow me on www.twitter/therealrickylo.)