From mass adoption to masa revolution: How GCash is enabling the cashless experience available to every Filipino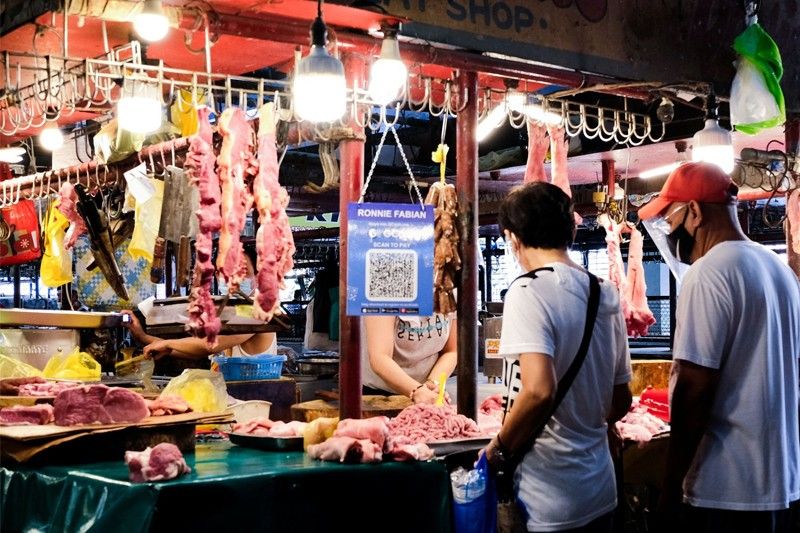 MANILA, Philippines—In the past year, cashless payment methods have been the way to go. It's considered safer not only because it minimizes physical contact during transactions but also because it's more efficient and secure.
The only hitch with contactless payments was how it wasn't as widely available for everything. But now, more and more establishments and services are accepting cashless payments—even your local tricycle drivers and palengke vendors.
Leveled-up palengke experience
On your next visit to the market, all you need is your phone and the GCash app. When you ride a trike or purchase goods from your suki, you can easily pay by opening the app, choosing Scan QR on the homescreen, and pointing your phone's camera on the QR code.
GCash has partnered with various associations of market vendors and tricycle drivers and operators to educate and give them access to QR. Now, vendors and drivers can just have a printout of the code posted in their stalls or trikes for customers to scan—there's no need to share any mobile numbers.
"The use of QR codes for small businesses and tricycle drivers is a big help because by scanning the code, you give the exact amount without any problem and our partner vendors don't have to worry about giving spare change," says Martha Sazon, president and CEO of GCash.
Making seamless transactions accessible for all
GCash's QR code has become a lifesaver for those who need a fast, safe and convenient way to transact and receive payments during the pandemic. In addition to vendors and trike drivers, online sellers, small and medium-sized enterprises (SMEs), and individuals like doctors and taxi drivers are able to receive payments safely, reliably, and securely from their customers.
To do this, they only need to generate a QR code within the GCash app to request money easily. They can send that photo to customers or print it out for customers to easily scan.
In addition to providing an alternative payment option, the app has another goal in mind: teaching Filipinos the importance of having their own finance accounts.
Currently, the platform has 40 million registered users—a third of the Philippine population. This aligns with the BSP's goal of having 50% of all transactions be digital by 2023 with 70% of Filipino adults with formal bank accounts by the same year.
GCash QRs in the streets
You can see this in action in Pasig City where a cashless ordinance is being pushed. Tricycle drivers of AMTODA and ASCLP TODA are encouraged to use QR codes to conveniently receive payments from passengers and customers.
"Mas magandang paggamit ng GCash kasi kailangan nating umiwas sa pagkahawaan ngayong pandemya. Kaya mas komportable gumamit ng GCash para makaiwas tayo sa kumakalat na virus," shares Pasig tricycle diver Zelde Guirela.
On the other hand, vendors at the Pasig City Market also have QR codes up in their stalls to make transactions more seamless. GCash partnered with the Pasig City Mega Market RTW, Vendors Association Inc., a vendor association in the city.
"Since last year we have been pushing for cashless transactions among vendors and trike drivers to promote the health of all, para mawala yung physical transfer [ng virus]. It's also a secure way to accept payment and to avoid circulation of counterfeit bills," adds Pasig City Councilor Rhichie Gerard Brown. "It's about time our vendors and trike drivers adapt to this new business model, they need to enjoy the benefits of e-wallets and contactless payment."
Meanwhile in Antipolo, the Public Transport Regulatory Board (PTRB) has also been pushing for contactless transactions with a city ordinance that mandates operators of public transport to offer cashless options of payment to passengers. The platform has partnered with ACTFFI (Antipolo City TODA Transport Federation Inc.), the largest TODA federation with 74 associations and over 11,000 members.
So far, GCash received over 4,300 QR applications from TODA drivers, with this the company targets to on-board more drivers which are empowered to accept digital payments through GCash. Additionally, they have their sights set on reaching a target of 12,000 GCash-enabled trikes.
The e-wallet also partnered with GerWeiss, a homegrown sustainable transport provider, in Boracay to urge passengers of the sustainable e-trikes to go cashless. To date, over 30 e-trikes are now empowered to accept GCash payments on the island.
"You see GCash in malls, public transportation, sari-sari stores, government offices, and even online sellers. Both consumers and businesses, big and small, find digital payments not only timely during the pandemic, but also genuinely convenient. Ultimately, what we are reaching for is financial inclusivity through ecosystem building with GCash," said Luigi Reyes, GCash vice president for Enterprise and Public Sector.
BSP supports finance for all
Through its QR initiatives, GCash supports the Bangko Sentral ng Pilipinas' Digital Transformation Roadmap, where the agency aims to shift at least 50% of retail payment transactions to digital and to have at least 70 percent of Filipinos have their own e-wallet by 2023.
"The QR Ph P2P or the QR code for person-to-person payment, and the QR Ph P2M or the QR code for person-to-merchant payment are big boosts to our thrust for financial inclusion, especially among micro and small entrepreneurs. Now more than ever, they need access to financial technology and tools that they can use to transact and grow their businesses," remarks Bangko Sentral ng Pilipinas Deputy Governor for Payments and Currency Mamerto Tangonan.
"Micro and small entrepreneurs provide essential products and services to the masses. They are vital contributors to the growth of local economies. Many Filipinos depend on them for their daily needs like food and transportation, so giving them access to a solution like the QR code for person-to-person or the QR code for person-to-merchant payment is a big help because it allows them to transact safely and securely during this pandemic," Tangonan says.
"I welcome the decision of GCash to take part in this journey and to be counted among the growing list of financial institutions offering QR code payment services to consumers and merchants. Adopting the QR Ph standard will make GCash interoperable with banks and other electronic money issuers, and this will certainly provide more payment options and convenience to Filipino consumers," Tangonan adds.
To further promote financial inclusion overall, GCash and the BSP will be holding a webinar aimed at educating the public and private sector with the benefits of fintech this June.