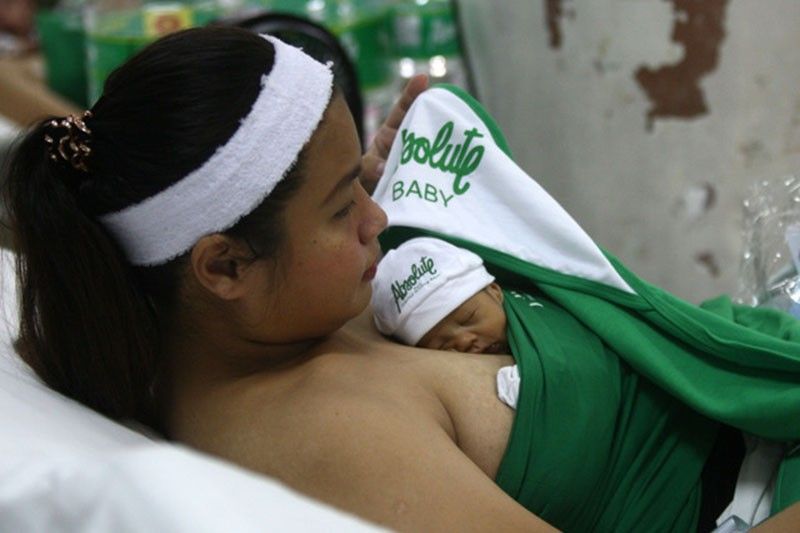 A mom in Dr. Fabella Memorial Hospital in Manila fixes the mittens of her newborn child.
Photos by Edd Gumban
Celebrating new moms on Absolute Mommy Welfare Month
MANILA, Philippines — From the day Mothers find out they carry life in their womb, their unwavering love and a series of beautiful sacrifices begin to unfold.
As their precious gift develops in their womb, they willingly endure all kinds of discomfort. Uncomfortable backache and cramps are replaced by glee when they feel the first kick. Unexplainable pain during labor and delivery fades when they cradle their baby in their arms for the very first time.
While balancing all these, mothers have to maintain a healthy body for the baby's proper care and nourishment, and brave other hurdles such as birth, physical recovery, and postpartum conditions.
To support and acknowledge the strength of moms in their journeys, Absolute Distilled Drinking Water recently rolled out the fifth-year celebration of Mommy Welfare Month.
As Absolute focuses on the well-being of mothers and their babies, they will be distributing Mommy Welfare Bags in the busiest maternity hospitals and lying-in clinics within the metro and nearby towns for the whole month of September.
The welfare bags contain one liter of Absolute Distilled Drinking Water, alcohol, fabric conditioner, breastfeeding tools and other products to aid neophyte mommies. On top of this, there are also empowering and heartwarming Pure Love Letters written by other moms to encourage and inspire fellow moms on the new chapter of their lives.
World's busiest maternity ward
Absolute launched the fifth Mommy Welfare Month at Dr. Jose Fabella Memorial Hospital. It is called the world's busiest maternity ward, delivering at least 50 births each day from mommies coming from different parts of the country.
Also dubbed as the "Baby Factory," mothers share a common delivery room with 13 other ladies. In the ward, moms sleep side by side with their babies and share the space with one to two other mothers.
Meanwhile, Absolute remains dedicated to one of the wards in Fabella called the Kangaroo Mother Care (KMC). Here, a skin-to-skin caring technique is used to aid premature and low-birth-weight babies until they can survive on their own without the need for intensive care.
"Since the infant is underweight, she needs to gain weight and enough strength through breastfeeding," Dr. Mary Anne Ilao, Department of Newborn Medicine officer-in-charge and Kangaroo Mother Care Program coordinator, explained.
"It is important that moms drink clean water since it is essential for their health. If they drink contaminated water, it may cause infection or diseases such as diarrhea. So, as long as they take good care of themselves, eat a balanced diet, and drink clean water, the milk that they will give their children will be safe," she added.
A Fabella mom staying with her twins at KMC ward said that while the journey has been challenging, she would strive hard to give the best life she could provide for her babies — starting by observing a healthier lifestyle.
"Aside from proper hygiene, I have to start eating healthy meals and drinking more water because this helps me give sufficient and healthy milk for my twins while I'm breastfeeding," the first-time mom said.
To learn more about #AbsolutePureLove and #AbsoluteMommyWelfareMonth, check out www.twitter.com/absoluteh2o, www.instagram.com/absolutedistilled, or www.facebook.com/AbsoluteDistilledWater.