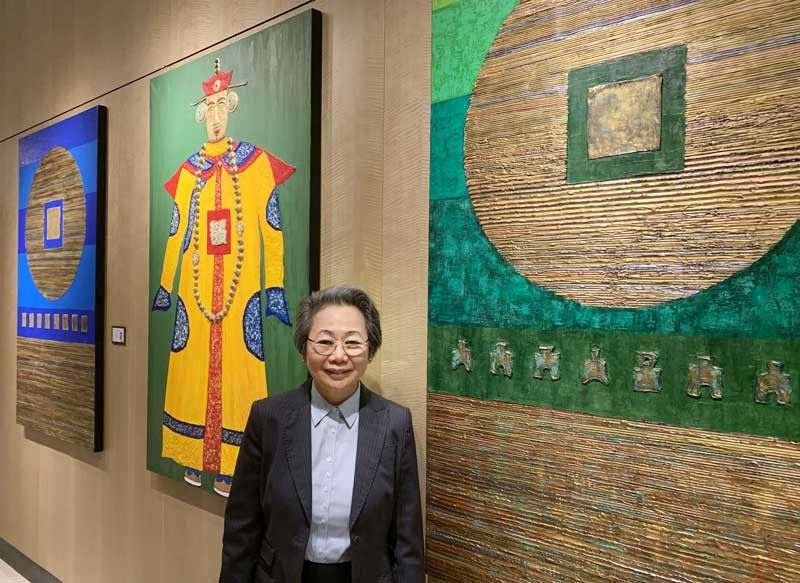 Corporate executive Lizanne Uychaco epitomizes the principle of yin and yang, successfully straddling the worlds of business and art, commerce and culture.
Lizanne Uychaco: The Art of Good Fortune
MANILA, Philippines — Lizanne Uychaco holds a unique place in the flourishing visual arts scene in the Philippines. She's the first and only Filipino visual artist who specializes in feng shui art. And, to my knowledge, the only senior business executive who practices art professionally.
As senior vice president of SM Investments Corporation, the largest publicly listed company in the Philippines, Lizanne is a formidable executive whose background and expertise include business development, corporate planning and turn-around management.
But her busy work schedule does not prevent her from pursuing a love for the arts. In fact, she's currently holding a solo exhibit at Gallery C of Conrad Manila as part of the hotel's "Of Art and Wine" series. Entitled "Heaven and Earth," the exhibit features 24 contemporary mixed media paintings that contain age-old symbols of prosperity, longevity and happiness.
The focal motif of each artwork is her signature feng shui coin, a symbol of wealth and luck among the Chinese. The metal coin originates from the Qing dynasty which was in power from 1644 to 1911, a time of unprecedented prosperity for the Chinese kingdom.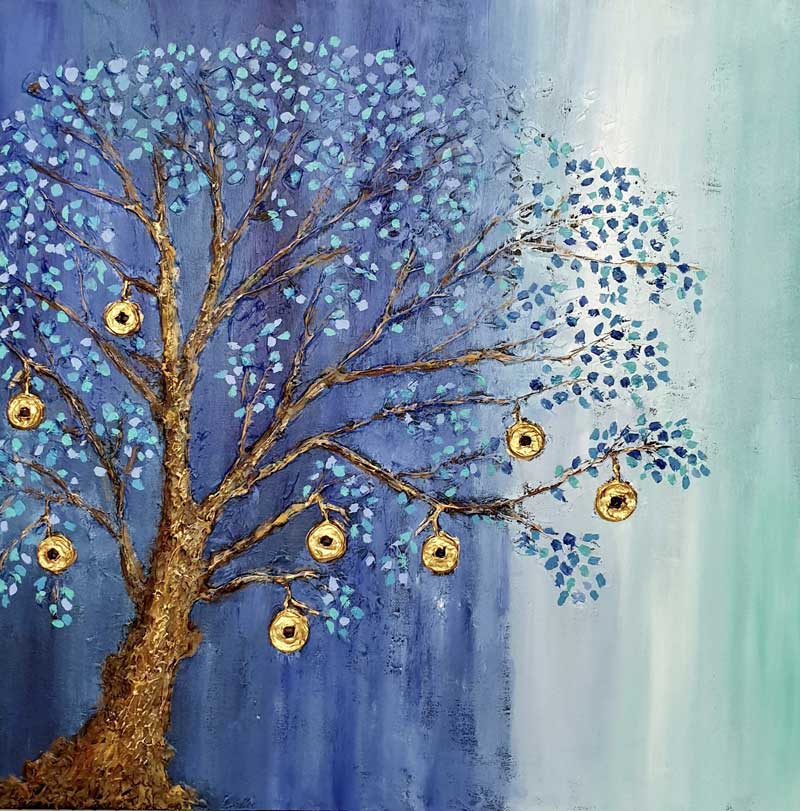 "I grew up wearing the coin given to me by Tan Sian, a feng shui master who had a temple in Pasay. The coin was meant to protect me from sickness and to bring me luck," Lizanne reveals.
"I formed a curious attachment to the coin and learned it was actually Chinese currency and a potent charm. The circle represents heaven and the square is earth, symbolizing a state of completeness and having the best of both worlds," she adds.
"It is also yin and yang, a reminder that the positive outweighs the negatives; that one must be centered on the good, maintain balance and harmony to attract luck and to succeed. It is an easy focal point for meditation that has been an integral part of my life, and has naturally flowed into my work and my art," says Lizanne.
Her artworks are clearly rooted in Oriental art, utilizing as well miniature Philippine objects that are symbols of protection and prosperity. These ethnic objects, made of wood and metal, are embedded in her canvases, providing a 3-dimensional texture to the works.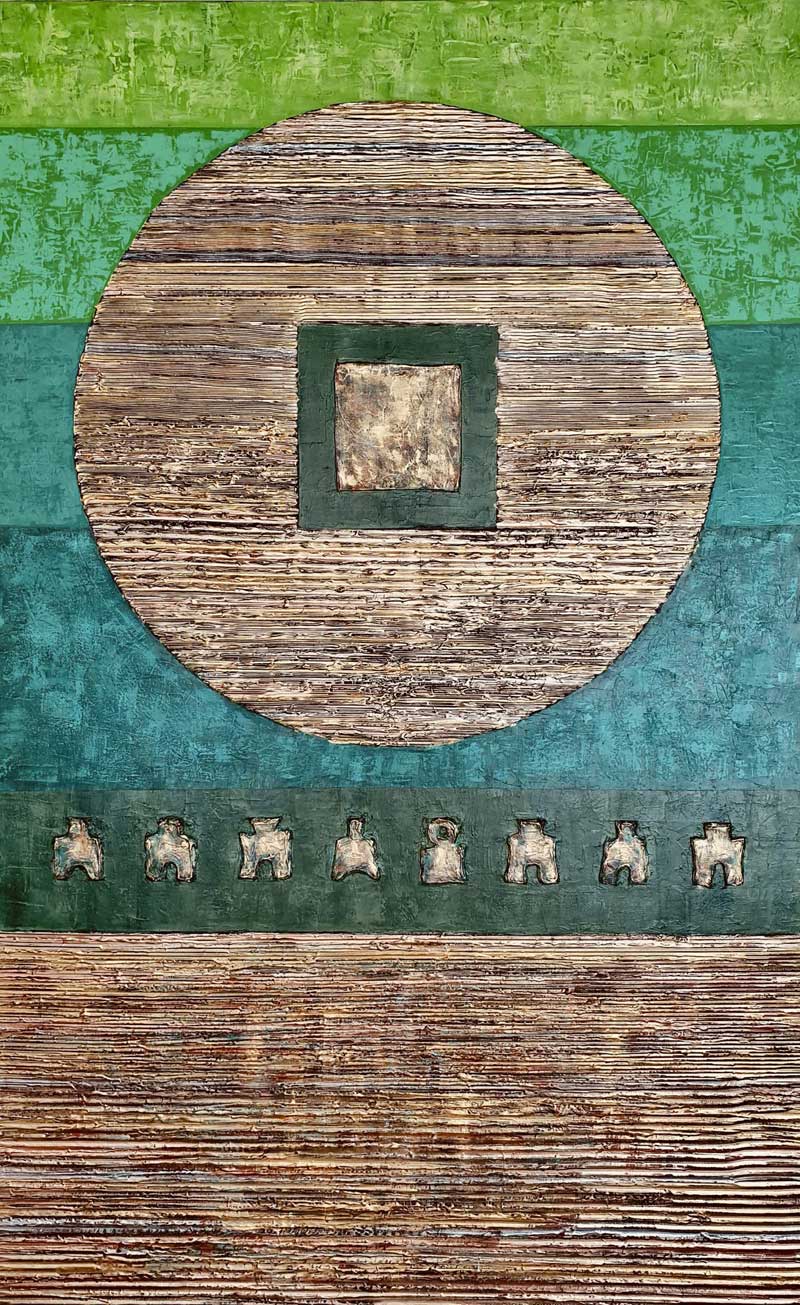 Lizanne's style is very experimental, bold in the use of colors, rich in texture and not limited to one particular genre. She combines different forms of visual arts on her canvas inspired by her lifelong training in sculpture, pottery, jewelry-making, silver craft, gold gilding, calligraphy and painting in watercolor, oil and acrylic.
This passion for learning various forms of visual arts grew from her interest in the arts while in school. She graduated with a degree in English/Journalism from St. Scholastica's College but inherently, art was her favorite subject.
In 1993, Lizanne's career in the arts was launched at the Ayala Museum where the late Sonia Ner, former curator of the museum, invited her to join the museum's Discovery Series exhibition. Since then, her artistic pursuits have been on an upward trajectory and she has held numerous solo exhibits and participated in group exhibitions in the Philippines and abroad. Her works have been acquired by several museums and published in art books.
These accomplishments are noteworthy considering the fact that she can only paint during weekends because her weekdays are dedicated to her professional career in business management. Thus, for her current exhibit at Conrad Manila, it took her two years to complete the 24 artworks, most of which are large paintings.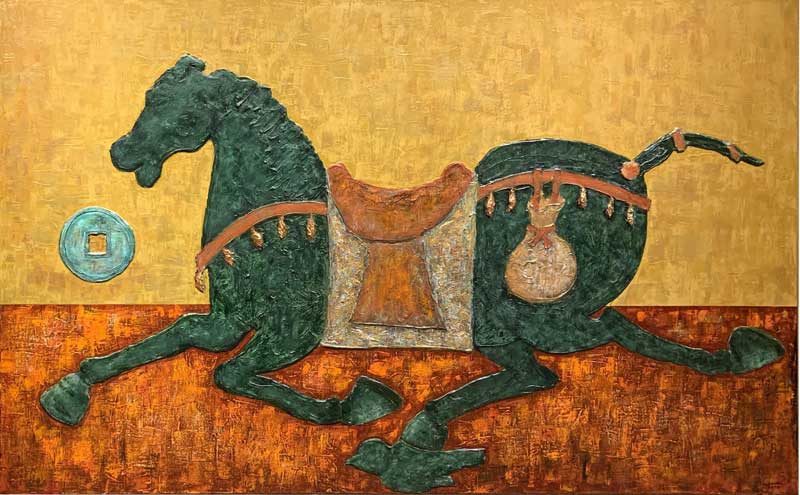 The 24 large paintings use bold colors and the recurring symbol of a metal coin, a square within a circle.
As a business executive, time and cost management is admittedly Lizanne's forte. And this applies to her work as an artist as well. "All galleries I have dealt with have often told me that I'm the most professional artist they have met. This can most likely be attributed to the disciplines of business management – planning, organizing and keeping commitments," she says.
On top of all these commitments, Lizanne manages to get involved in volunteer work. She is presently a trustee and the president of Sunshine Place, a foundation dedicated to senior re-creation, enabling people to paint, fulfill bucket lists and develop their minds, bodies and souls.
"I am enjoying Sunshine Place, a bastion of creativity, fun and camaraderie. Maybe I will spend more time there someday and paint the subjects I have been thinking of. I have been declining regional and international shows as time is a limitation. In the future, I may be able to accept some," Lizanne reveals.
"But right now, I am focused on painting the art of good fortune in mixed media. There is so much room to explore, combine and express – the possibilities and boundaries are almost endless," she adds.
Indeed, her artworks are positive representations of our worldly aspirations for harmony among heaven, nature and humanity. Intrinsically, they also speak of the heritage of the artist – her Chinese roots, her Philippine origin and her contemporary upbringing.
Heaven and Earth is ongoing at Conrad Manila's Gallery C until Aug. 10.