Dimsum ala Singkit: pumpkin with purple tapioca filling, carrot with charsiu filling.
We didn't really cook, but it was a treat to see master chef and restaurateur Jereme Leung at work in the kitchen of China Blue, the restaurant that carries his name, at the Conrad Manila. Eight of us got our own cooking station, and with television cameramen and photographers swarming around we strained to see and hear Jereme explain the intricacies of making dimsum dough, golden yellow owing to the pumpkin mixed into it. From flour and different kinds of starches (corn, potato and wheat) and water and steamed pumpkin he mixed and whisked and kneaded and formed the dough, which he then divvied up for us.
He proceeded to demonstrate how to make carrot and pumpkin shaped dimsum with char shiu (asado) and purple tapioca fillings (the fillings were prepared earlier and shaped into little balls that would go into our dimsum), his fingers deftly rolling and forming the dough into those dainty shapes. He assured us it was easy, proof of which was that he could still do it even though he hadn't actually made dimsum in like 20 years.
Our participation was limited to assembling the dimsum, and the challenge was to make them pretty and make sure they didn't explode or disintegrate when they were fried. Sure enough it really wasn't at all difficult if you follow his instructions, and I had my little pumpkin and carrot ready for the fryer in good time. We were given little bamboo baskets to put our dimsum, and some leaves and things to add as decoration. Then we carried our creations into the main restaurant, parading our baskets like trophies. We got to eat our creations; they were yummy, although we couldn't really take any credit for that.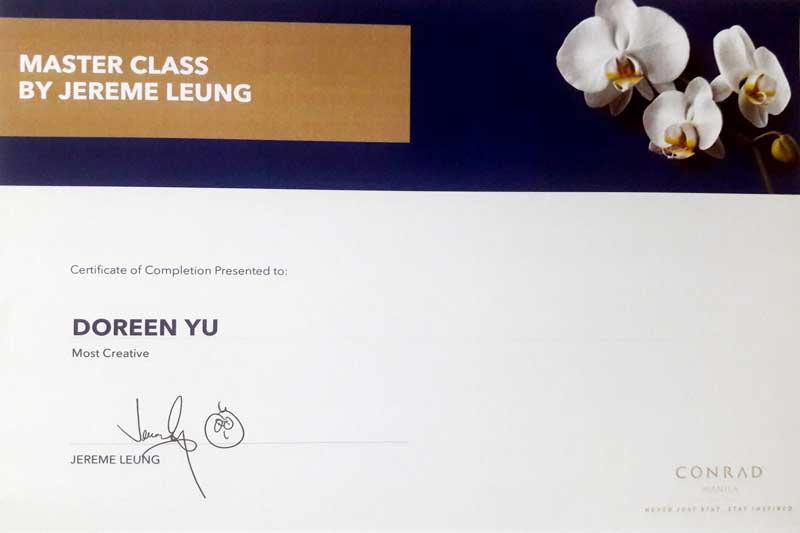 Proof of cooking with the master chef.
Jereme gave a lot of helpful tips, like how to hold a knife (thumb and forefinger pressing on the blade to keep it steady), how not to cut your finger (use the middle joints of the other hand to guide the knife), how to clean a wok (with a mini walis tingting), how to test if the oil is hot enough for frying (throw in a tiny piece of dough to see if it bubbles). He eschews using plastic gloves, saying one should just wash hands before handling the food. As an added benefit, he shows off his very smooth hands, the result of directly working with all the oils in the food.
* * *
With restaurants and consultancies (through his company Jereme Leung Creative Concepts) that constantly take him all over the world, this multi-awarded chef hardly cooks anymore, especially at home. He has professionally equipped kitchens at his homes – the latest a 4,800-sqm property in Penang, Malaysia with "more floors – higher – than Conrad Manila," he jokes – but he says that with his wife constantly traveling as well to attend to their business operations, he only has a cat to share home with.
But when he does entertain at home, he prefers: barbecue, because it encourages conversation and interaction among the guests; hot pot, where he provides each guest with a small pot of ingredients of their choice, mixed in a common stock, again for interaction; hamburger, which he makes himself, with 25 percent fat in the meat.
Steaming, double boiling and deep frying are the three basic cooking skills a home cook should master. And three basic utensils a home cook should have? A set of very good quality knives (he has a limited edition of professional knives in his collection); a Thermomix which can do almost everything – steaming, blending, mixing, whipping, chopping, precise heating and a host of other things; a sous vide (French for "under vacuum") machine in which food is placed in a plastic bag and submerged in a water bath to cook for hours on end at a strictly regulated temperature, thus cooking the food evenly and retaining moisture.
* * *
After "slaving" in the kitchen – yeah, right! – we were treated to a wonderful lunch – with a view of Manila Bay to boot – conjured up by Jereme and China Blue's executive Chinese chef Khor Eng Yew. While the restaurant's regular menu is more than sumptuous, our special Majestic Summer menu featured local ingredients – malunggay leaves, pili nuts, kalamansi, Batangas coffee, kamias, sampaloc, black rice – worked into dishes that Jereme hopes to introduce in his other restaurants to showcase Philippine produce.
The runaway winner for me was the poached scallop and dried fish lip in cherry tomato kamias consommé developed by chef Khor. The soup, poured piping hot into your bowl, will surely drive away the blahs and whatever else may ail or bedevil you. As Jereme, who said he was just a waiter for the day, went around offering more soup, my quickly empty bowl was happily refilled.
A poached malunggay wonton with seafood filling was terrific, paired with a king prawn coated with crispy black rice, both over a subtle pumpkin sauce. The colors on the plate were certainly summery and very pretty – almost too pretty to eat...almost, because we devoured it all.
The malunggay and kalamansi sorbet with chia seeds and fruit bits was a perfect ending; unfortunately no seconds were offered.
What was offered were a diploma (certificate of completion signed by Jereme) and a copy of one of his several books, this one "New Shanghai Cuisine" which presents dishes native Shanghainese cook at home, but updated by Jereme. It was certainly a morning and noon well spent, and I left with the assurance from chef Khor that yes, he will prepare the soup for me anytime I visit China Blue – and I don't even have to work for my lunch slaving over a hot stove.