'Glad' tidings & 'Joyconomy' at SM 2023 Tenant-Partner Summit
September 12, 2023 | 12:00am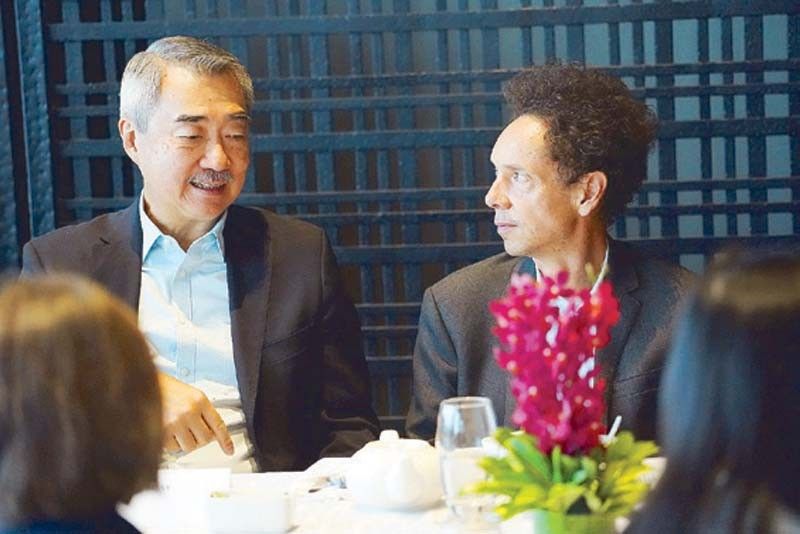 SM kicked off the celebrations for its 65th anniversary with glad tidings at the 2023 SM Supermalls' Tenant-Partner Summit, with no less than best-selling author and New Yorker columnist Malcolm Gladwell, who has been included in Time magazine's 100 Most Influential People list, as the keynote speaker.
Emma Chiu, global director of Wunderman Thompson Intelligence, was the other speaker for this auspicious afternoon.
Titans, noted entrepreneurs and media heads were all enthralled by Gladwell as he continuously walked around the circular stage to ensure that everyone in the SMX Halls F2-F4 would feel like he was talking to all of them, and not just to one side of the room.
Touching on topics ranging from influencer Kai Sennet and his recent run-in with the law for creating a Union Square ruckus in Manhattan, to the Taylor Swift phenomenon and how her fan base mirrors the diversity of the American population, Gladwell then segued to unearth what the young consumers of today want, and clamor for. And how retail brands will have to understand and accept this if they want to make an impact.
(In his book Tipping Point, Gladwell defined three key factors that each play a role in determining whether a particular trend will "tip" into wide-scale popularity and "spark and epidemic": the Law of the Few, the Stickiness Factor, and the Power of Context.)
Authenticity, inclusivity, and spontaneity were the three keys to a successful campaign or branding exercise for today's youthful market, Gladwell pointed out. He invited us to observe along with him that the market of today isn't governed by hierarchy, as anyone over the age of 30 would understand. For those of a certain age, especially those born in the digital age, the ruling principle is no longer a hierarchy, but a network.
Referring to his books Outliers, The Tipping Point and David and Goliath, Gladwell created connections to Asia in general, and with the Philippines in particular. While he confessed to now being very intrigued by the Asian mindset and perspective, he was quick to accept that he knew very little about Asia, and was looking forward to returning very soon.
Emma Chiu spoke about retail trends and how, post-pandemic, there was the need for retailers and brands to redefine their value proposition. This was in the interest of remaining relevant and being aware of how the market now thinks. With a flurry of examples in her slide presentation, Emma made a strong case for this revisionist philosophy, and how if we don't ride this trend of consumer behavior, we could find ourselves out of the loop, with relevance eroding.
Two of the major macro-trends Chiu presented were the "Joyconomy" and Creative Catalysts. These trends help define the retail experience we can offer to customers, taking into consideration surveys conducted that asked them what they were looking for post-pandemic.
Wunderman Thompson Intelligence, of which Chiu is global director, says that despite ongoing economic and environmental crisis, "people are choosing joy." They coined it "Joyconomy."
"Joyconomy" sees opportunities for brands "who lean into consumers' desire for inspiration and optimism, as people become determined to show resilience, innovation, and joy in the face of continued hardship."
On the threshold of the Christmas season in the Philippines, Gladwell and Chiu brought glad tidings and joy to the tenants and partners of SM Supermalls, the "real cause for the celebration," says SM Supermalls president Steven Tan.
SM Prime Holdings, Inc. president Jeffrey Lim expressed his appreciation warmly to the partners who attended the summit and closed the festivities for the day.
100 malls by 2026
Steven Tan, for his part, paid tribute to the tenants, saying, "At the heart of every achievement are our tenants. You are the heartbeat of our malls, bringing life to our spaces, giving us variety and sowing us a resilient spirit of entrepreneurship."
He proudly announced that SM is "very much on track to deliver 100 malls by 2026," beginning with the opening SM City San Pedro and SM City Santo Tomas by year's end. Also in the pipeline is Santa Rosa Nuvali, and the transformation of Harrison in Manila.
SM is also going north "with new malls in Laoag and La Union," Tan revealed. All this while re-energizing and reinventing its flagship properties, "high profile expansions in SM Mall of Asia, SM City Cebu, SM Aura Premier and SM Megamall."
He added: "In 2024 we will bear witness to the completion of the retail expansion of SM Mall of Asia, and the refreshed aesthetics of SM Aura Premier."
SM Megamall will begin its redevelopment, ultimately yielding up to 20,000 sq. m. of new leasable space, he elaborated.
SM's Cebu properties — SM City Cebu and SM Seaside City — are humming with expansion projects both in the mall and the entire multi-use complex. "You will see the rise of the National University and the second Arena, a real game-changer for Cebu," Tan added.
"We have so much to look forward to, and we will undoubtedly continue this journey together… We are your home. We are here for you."
Glad tidings, indeed.
You may e-mail me at [email protected]. Follow me on Instagram @joanneraeramirez.