The hottest 'Thicket' in art fair Philippines 2021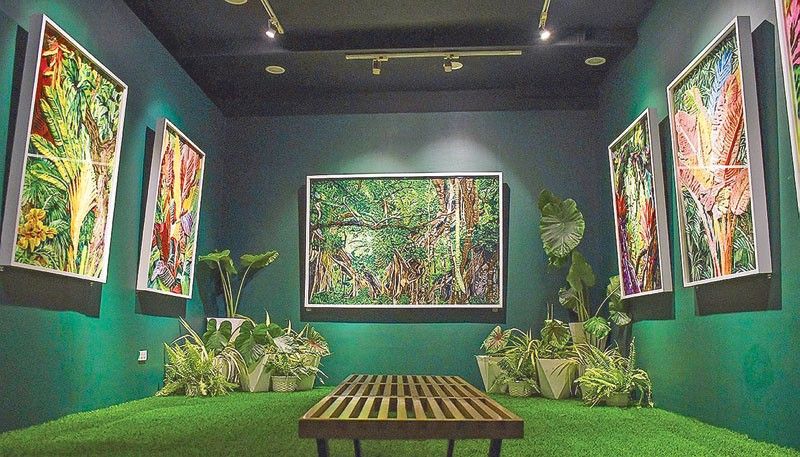 I took an immediate interest in an art piece Nico Teotico of Art Underground Gallery had shown me. It was a colorful scene that looked woven but was entirely made of rolled pieces of paper. This is "quilling" or paper filigree, an art form supposedly started by nuns in Egypt. These rolled pieces of paper consist of different colors of coils or shaped circles, scrolls, and spirals. This was also an art form in France and Italy during the Renaissance (when nuns and monks used quilling to decorate religious book covers) and was popular in 18th-century England.
Nea de Leon's third solo show "Thicket" was featured as part of Art Underground's exhibition for Art Fair Philippines 2021. She is part of the Kuta Group of Artists and started quilling as a hobby.
Born in 1989, she graduated from the University of Rizal System (Angono) with a Bachelor of Secondary Education, major in Music, Arts, Physical Education, and Health. Nea has no formal training at all with art but definitely has visually engaging output manifested out of her hobby of making quills and playing with paper. She has had numerous group shows since 2018 and one solo exhibition (all with Art Underground) every year since 2019.
"Thicket" caught a lot of attention at this year's Art Fair Philippines. Nea has taken her hobby into the Filipino contemporary art scene and been warmly received based on her sellout shows and the new demand for her work.
At first glance, people thought her work was embroidery. She simply uses colored paper that she shapes and arranges to form her works of art. It sounds simple but it definitely looks intricate and complicated. Admire these photos of her vibrant art and see why collectors are drawn to this young artist's work.
Congratulations, Nea! We look forward to seeing your growth quilling your way to greater appreciation and exposure in the Philippine art scene!
* * *
Art Underground is at 814 Balagtas Street, Barangay Addition Hills, Mandaluyong City. Email [email protected] for inquiries.
Shop online at the Negros Trade Fair 2021
The Negros Trade Fair is the country's longest running provincial trade fair that I go to each year in Metro Manila. It is a signature project of the Association of Negros Producers (ANP) and while last year was canceled, this year's Negros Trade Fair goes online from May 29 to June 30.
The e-commerce website (www.shopnegrostradefair.com) will showcase a selection of products, including food, garments, fashion accessories, furniture, home décor, and more. The ANP will also open the onsite selling event in Bacolod City at The HUB, showcasing quality Negrense-made products and will serve as a center for entrepreneurship for the province.
The Negros Trade Fair also celebrates their partnerships formed over the years with the Provincial Government of Negros, Governor Eugenio "Bong" Lacson, ANP, Department of Tourism, and Department of Trade and Industry, who all share the common goal of promoting Negros and strengthening small and medium enterprises in Negros.
* * *
Follow me on Instagram @pepperteehankee.