Survey: 77% willing to travel domestically even without vaccine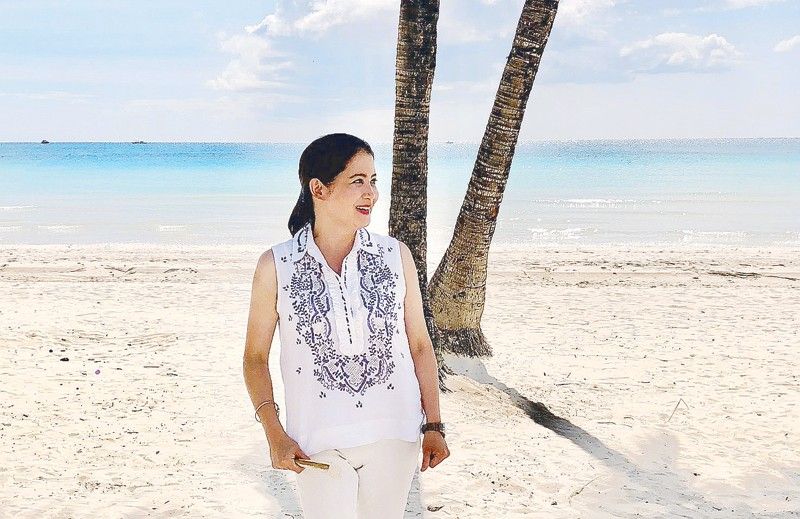 This lady gives news as refreshing as she is, and as she looks. And being a trained economist, she gives news grounded on facts, not pinned on clouds.
Though acutely aware of the dangers and risks surrounding COVID-19, which has infected some 48,000 Filipinos (as of July 7), Tourism Secretary Berna Romulo Puyat shared this piece of good news with this writer: As of July 8, Boracay has zero COVID-19 cases and Bohol "only had very minimal COVID cases and all were quarantined."
Under modified general community quarantine, domestic travel for tourism purposes is allowed, but some local government units (LGUs) are still reluctant to open up.
"I respect the LGUs and we will work together to slowly reopen their economy," says Berna, who taught economics at her alma mater, the UP School of Economics.
"Bohol and Boracay are putting much importance on their capacity to respond to the crisis by setting up their respective COVID-19 laboratories as well as rolling out stringent health and safety guidelines as prerequisites to reopening to tourism," Berna said.
She also revealed that according to the domestic travel survey conducted by the Department of Tourism with the Asian Institute of Management and Guide to the Philippines, "77 percent of respondents said they are willing to travel domestically even in the absence of a vaccine once travel restrictions are lifted; 48 percent of whom see themselves travelling within six months."
Boracay, Siargao, Baguio, Manila and Cebu are the Top 5 destinations of the respondents, interviewed across 81 provinces in the country. Boracay Island was reopened last June 16 but only initially to travelers from within Western Visayas.
Destinations like Boracay and Bohol can create "travel bubbles" between each other and to and from other COVID-free places within our 7,641 islands and abroad. After all, the country has 12 international airports.
"Travel bubbles link destinations that are similarly situated. In these destinations, cases are under control and health and safety protocols are strictly enforced," Berna, who dreams of travelling up North when it opens up to tourists, reveals.
Is the Department of Tourism encouraging local resorts and hotels to bring down rates because the DOT survey showed travelers expect a reduction in their travel budget? This is where Berna the economist further shows her chops.
"The DOT leaves the decisions on pricing to the management of the establishments, given that hotels and resorts vary, and have different target markets and value propositions," Berna points out. While the DOT survey showed that 44 percent of respondents see a reduction in their travel budget, 23 percent expect no change and six percent expect an increase.
Thus, according to Berna, this shows "that there are markets for those who are willing to spend the same or even more depending on the products and services that these establishments can provide."
New beginnings at El Nido
The entire Palawan is in MGCQ. According to the Ten Knots Development Corp. (TKDC), which owns and operates El Nido Resorts (ENR) and Lio Estate Resorts (LER), there are still no confirmed cases in El Nido, Palawan. "Moreover, our eco-resorts in the islands and in the mainland are all COVID-free as well."
According to TKDC, the "enhanced" care guest journey to El Nido begins with their flight to El Nido via AirSwift, the first airline to install in-seat barriers that will help minimize the possibility of droplet transmission from passengers beside or behind. After landing, guests will go through certain steps, including the following, which reflect the resorts' "Be GREEN, Be Clean commitment."
? From Lio airport, where seats will be sanitized, and PPEs worn by representatives at all times, the guests will transfer via shuttle service to the new Care Lounge, with seating limited to one person per row. There will be a safety divider between the driver and guests, and luggage will be handled and transported separately.
? Once the guests arrive at the Care Lounge for check-in, they will undergo a foot bath, hand sanitation and thermal scanning. ENR guests can check-in via QR code. A similar process is followed for LER guests but check-in is done at their respective resorts after proper sanitation at the lounge.
? Guests will then be assisted for transfers to their respective resorts. Those staying in the islands will be provided with a sanitized life jacket that they can use for the duration of their stay. Only a maximum of eight guests will be allowed per boat. Hand sanitizers, fresh towels, seat markers are on the boat.
? All resort entry points are equipped with foot bath and hand sanitizers. LER guests will find their disinfected luggage at the lobby while for ENR, these will be delivered to each guest room's doorstep.
? Both ENR and LER will sell rooms up to 50 percent maximum capacity only. Sanitation kits will be available upon request and there will be a dedicated housekeeping staff wearing full PPE for each room. Make-up room and turn-down service are discontinued; however, used linen, towels and dining utensils may be replaced.
? Buffets are replaced with pre-set or a la carte meals, and will only be available through in-room dining. Safe food handling will be observed following DOH's guidelines.
? Private, low-density tours, and a dedicated Marine Sports Guide per boat will be offered to guests for leisure and recreation. Spas and main pools will be temporarily closed; while gym use will be by appointment only.
? The check-out process will be via e-mail where a digital folio will be sent to the guests the evening prior departure. Several cashless payment options will be made available at the front desk where key cards will be dropped and immediately sanitized.
(You may e-mail me at joanneraeramirez@yahoo.com. Follow me on Instagram @joanneraeramirez.)