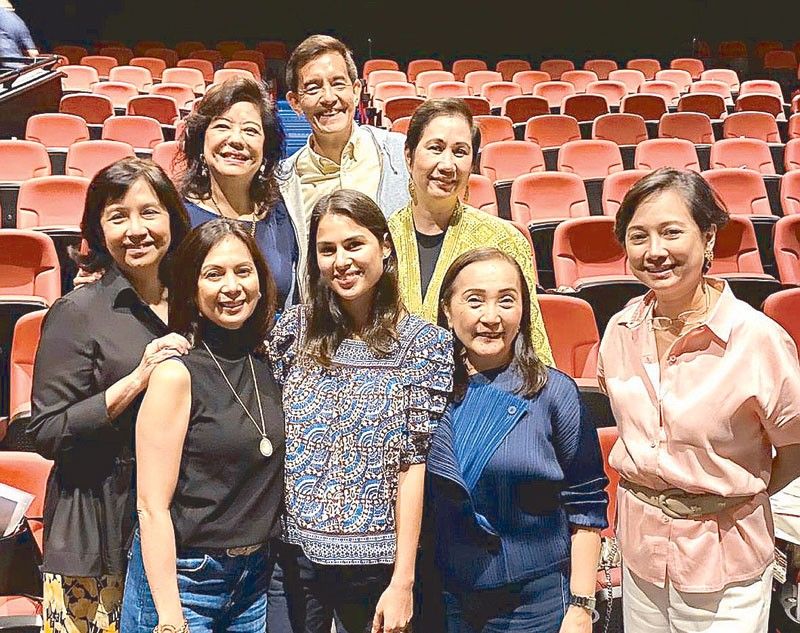 The members of Helping Women & Others (HWAO). Chairperson Libet Virata, Gina Aboitiz, Marga Zobel, Tang Singson and Bettina Osmeña; Elena Coyiuto, this writer and Camille Samson.
MANILA, Philippines — In this world where there's a proliferation and diversity of "less fortunates," it's only right that foundations, advocacies and causes will blossom. Here in the Philippines, nary a week goes by that some foundation isn't mounting some benefit dinner, auction or affair. And that's great as between health issues, the environment, disabilities and underage causes, it's good to see a noble few doing something for the unfortunates, and trying to alleviate dire predicaments, in any way possible.
In truth, there are so many foundations doing great work and whether it's fair or not, marketing and making the right "noise" both go a long way in spelling success and longevity for these foundations. Like who isn't aware of the ALS Ice Bucket Challenge from a few years ago? It certainly was a viral phenom, but I actually wonder how many even remember it was for ALS, or more to the point, what ALS stands for! Brownie points if you do have amyotrophic lateral sclerosis at the tip of your tongue. And have they even come close in replicating that success ($115 million raised) since that landmark 2017?
So, it's interesting to be there at the very start of a new foundation. My sister, Libet C. Virata, and her friends Tang Singson and Bettina Osmeña, are breast cancer survivors; and I got deeply involved with their work, conceptualizing, mounting and raising money for ICanServe (ICS) through three years of the fundraiser, Fashion Can Serve. ICS promotes breast cancer awareness and early detection an urgent advocacy given that, for inexplicable reasons, the Philippines has the dubious distinction of having the highest incidence of breast cancer in Southeast Asia.
Along with Camille Samson, herself a cancer survivor, the three were pondering on what more they could do, directly helping those already afflicted, yet challenged by the high cost of medical care. Recruited to join them were Elena Coyiuto, Gina Aboitiz and Marga Zobel. And after conversations with good friend Dr. Gap Legaspi, who heads the Philippine General Hospital (PGH), and a visit to PGH's Oncology department, a cause and manageable target were established, and Helping Women & Others (HWAO) was formed.
In layman's terms, the PGH Oncology department has one room equipped with a safety-required bio-hood, for mixing the chemotherapy "cocktails." And this applies to a broad range of chemo treatments for cancer victims, not just for breast cancer. At present, the working capacity of the room is to produce 60 "cocktails" a day; and yet, more than 120 patients, on average, head daily to the Oncology department. This results in more than half waiting the whole day, but not getting their treatment, with no guarantee that they'll be attended to if they come back the following day. This has led to some doctors defying safety protocols, and mixing cocktails right at their tables.
So with a film block screening as the reason to get people together, a benefit was launched at Rockwell Power Plant Cinema. The proceeds would go to constructing and equipping a second chemo prep room; one that would be up to the safety standards normally required. Rather than help one afflicted and financially challenged person, the aim was to impact on as many as possible, in a direct, controllable manner.
During his short speech before the film showing, Legaspi thanked HWAO for embarking on this "mission," and for choosing PGH as the beneficiary. While there are big plans to embark on creating new cancer wards in the near future, this small HWAO endeavor would go a long way in correcting the present situation.
And it was great to see the outpouring of support and enthusiasm from the relatives and friends of the HWAO directors; as the screening turned into a mini-party/reunion across generations. The popcorn movie Charlie's Angels was screened but in reality, it wasn't about the movie, as the real "Angels" were the ones sitting in the theater, and those who couldn't make it but pledged support, and helped HWAO raise the funds to reach the target.
It's early days for HWAO, and there are plans to create a bigger signature event in the third quarter of 2020 but this was a sweet way to begin, and live up to what the foundation is called, and stands for. It's not just a "wow" thing, it's HWAO! *