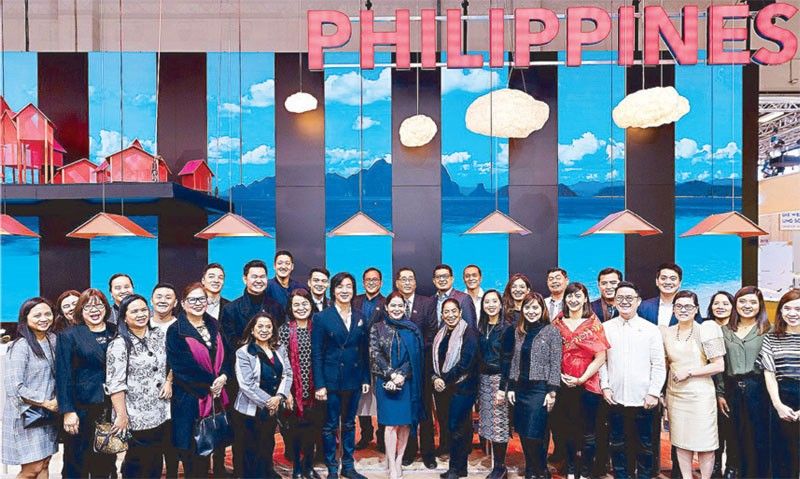 The Philippine delegation headed by Tourism Secretary Bernadette Romulo-Puyat and Tourism Promotions Board COO Marie Venus Tan.
Spotlight on sustainable tourism
Following the launch of the refreshed "It's More Fun in the Philippines" campaign last February, the Department of Tourism (DOT) hit the ground running as it recently presented the revitalized campaign at the leading trade show for the worldwide travel industry, ITB Berlin, where it had its global debut at the Philippine booth.
Led by Tourism Secretary Bernadette Romulo-Puyat, the Philippine contingent to the ITB Berlin brought together what the country has to offer in the fields of art and design, crafts, food and entertainment, as part of the DOT's aggressive push to sell the Philippines on the global tourism map.
The Philippine booth, created by award-winning designer Kenneth Cobonpue, had a contemporary Filipino design that showcased Filipino creativity and artistry.
Alongside the presence of some of the Philippines' top hotels and resorts and tour operators as co-presenters, the staging of interactive Philippine experiences was a major crowd draw. There was a live demonstration of Philippine weavers from Luzon, Visayas and Mindanao. There was also a mouthwatering traditional Filipino food feast prepared by Asia's Top Female Chef for 2016 Margarita Fores; and servings of newly roasted, sustainably sourced coffee from Filipino farmers by El Union. Presented, too, was world-class entertainment headlined by chart-topping performer Apl.de.Ap.
Puyat remarked, "I am positive that the 'It's More Fun in the Philippines' campaign, with its refreshed sense of purpose, will continue to be successful, more so as we focus on sustainable tourism. With more and more travelers conscious about their ecological footprint and the cultures and experiences they are consuming, we intend to address these issues head on, fostering a balance of development and conservation while ensuring that this paradigm shift is truly made more fun."
Welcoming 10,000 exhibitors from more than 180 countries and over 1,000 top buyers annually, ITB Berlin covers the entire value chain of touristic offers, from a range of destinations to travel suppliers, and other tourism-related products and services. The Philippines' continued presence in this important world event provides opportunities for industry partners to establish and renew links with their counterparts in Europe and other key markets of the world.
As the DOT and the Tourism Promotions Board continue making the execution of the "It's More Fun in the Philippines" campaign 100-percent crowd-sourced, the goal of sustainably growing and further expanding Philippine tourism to even greater heights is possible. Best lighting solutions
The LuxDecor showroom in BGC was all lit up when leading lighting fixtures distributor Landlite Philippines Corp. (LPC) presented its latest lighting design trends for 2019.
LPC used the event to formally introduce its brand ambassador, celebrity and fitness advocate Marc Nelson. A special tour of the LuxDecor showroom followed the formal introduction.
Representatives of two global brands that LPC proudly carries graced the occasion — Faro Barcelona chief executive officer Xavier Martin and Uozu Italy deputy CEO Alessandro Porta.
LPC CEO Jocelyn Li said, "We're excited to share the latest lighting design trends for this year. Landlite has a wide range of residential and commercial lighting products and fixtures, all state-of-the-art and of the highest quality and reliability. Our clients are kept abreast of the most recent innovations in lighting."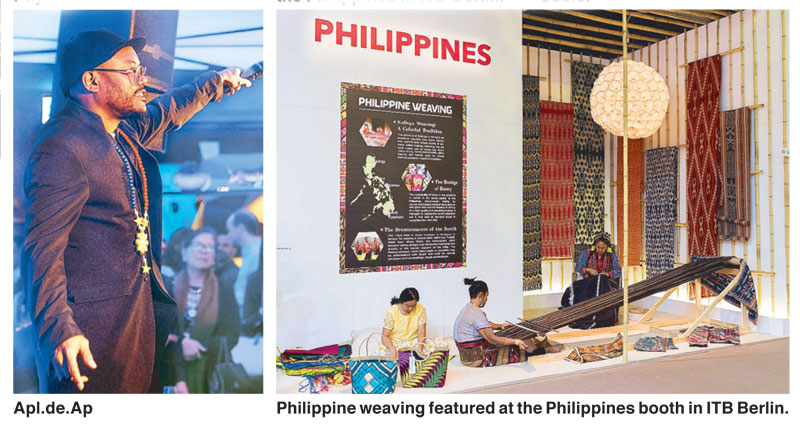 Faro Barcelona has been making and designing indoor and outdoor lamps and technical lighting, among other products, for over 60 years now. Uozu Italy produces innovative, high-quality and creatively designed lighting for commercial and other projects.
(LuxDecor is located at Units 212 and 214, 2nd floor, Parkwest Residences BGC, 36th St. corner 7th Streets, Bonifacio Global City, Taguig. For more information, visit www.luxdecor.ph.) Shoestoppers
When Gigi Pio Roda was in Barcelona, she saw the Toni Pons flagship store along the famous La Rambla. She fell in love with the brand, which specializes in alpargatas or espadrilles, and decided to share it to the Philippine market.
Gigi partnered with Yvonne Camacho and Carmen Santos and were given the exclusive distribution franchise for the Philippines.
The Spanish footwear brand, founded in 1946 by Antoni Pons Parramon, has continued to produce quality pieces and uphold premium craftsmanship by making use of only the finest materials in traditional methods of shoemaking. The company is now headed by Antoni's grandson Jordi Pons.
Camacho says, "Toni Pons PH shoes are made for the active, modern woman who is filled with a sense of fun but who always wants to do so in style. They are perfect for ladies who lunch, soccer moms, coffee companions, the list goes on! Wearing them raises your level of stylish whimsy a thousandfold."
The first retail outlet of Toni Pons PH was a kiosk at the second floor of Power Plant Mall in Rockwell, Makati City in August last year. The partners decided to find a permanent home for the brand after the success of this kiosk. Its new home is at Nest Furniture on Jupiter Street in Makati City.
Fans of the footwear brand recently visited Nest to check out the styles that are perfect for summer.
(Nest is located at 40 Jupiter St., Bel Air Village, Makati City. For more information, visit www.tonipons.ph., Toni Pons PH on Facebook and @tonipons.ph on Instagram or call 0966-8935498 and 0917-8752343.)