EDITORIAL - A continuing war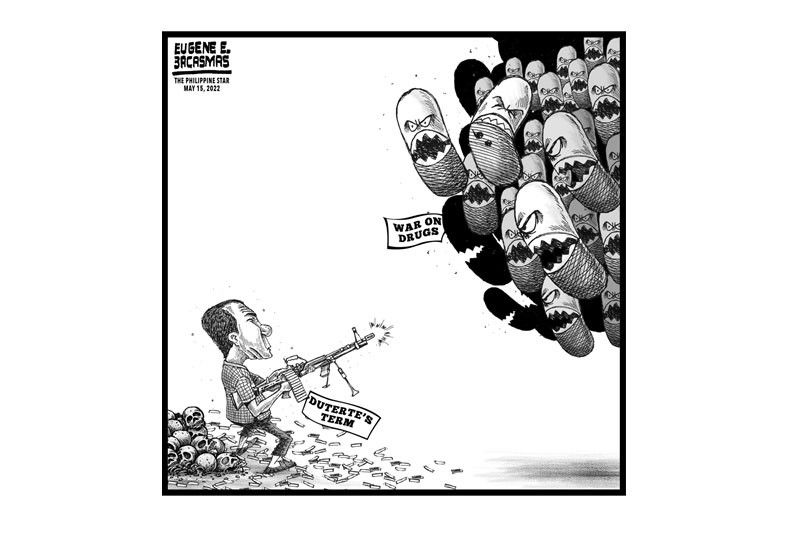 The spokesperson for the Philippine National Police dismissed the words as hyperbole. With President Duterte, however, warnings to kill drug traffickers are rarely empty threats.
Meeting with some Cabinet members last Wednesday night, Duterte again defended his brutal war on drugs, and said that before stepping down on June 30, he wanted to see three or five more drug lords fight it out with the police and killed.
Duterte was borne to power on an anti-crime platform, memorably promising to end the drug menace in six months. Six years later, with over 6,000 drug suspects killed in police anti-narcotics operations, the President himself has admitted that he has yet to fulfill his promise. Throughout his bloody campaign against drugs, shabu continued to be smuggled into the country by the ton.
Despite a possible investigation by the International Criminal Court, the President says he has no regrets and sees no reason to apologize for his methods in fighting the drug menace. At the start of his presidency, he had said that the involvement even of local government executives, police generals and barangay officials complicated efforts to fight the drug menace. Several local government officials and dozens of barangay captains were among those killed in his war.
In his speech, he noted that the lieutenants of slain drug lords simply took over the lucrative operations. He expressed hope that the incoming administration would continue his war on drugs. Being a former city prosecutor, he also offered to provide legal assistance to law enforcers who are sued for carrying out the campaign against illegal drugs.
It is unclear if the incoming Marcos administration will have the same brutal approach to the drug menace. The persistence of the problem shows that the drug killings have not provided sufficient shock and awe to deter drug dealers from engaging in one of the most lucrative although illegal enterprises.
President Duterte's war has also been deficient in addressing the other major aspect of the illegal drug scourge: the demand. This is a far more complex element that calls for a multipronged approach involving families, the community, schools, civil society and the religious sector. Perhaps the incoming administration will have a deeper grasp of the problem, and a better tack in addressing both supply and demand.