EDITORIAL - Targeting lawyers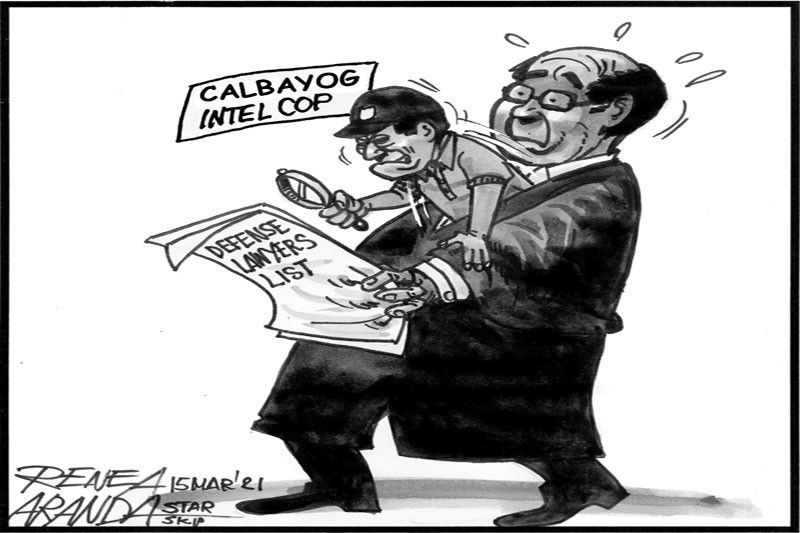 Both the commander and the intelligence chief of the Calbayog police in Samar were sacked over the weekend. Lt. Col. Neil Montaño and nine non-commissioned officers were relieved over last week's killing of the city's mayor, Ronaldo Aquino, in what the police claimed was a shootout. Police have said there is no record linking Aquino to the illegal drug trade.
Meanwhile, Lt. Fernando Calabria Jr. was sacked as intelligence chief after a letter he sent to the Calbayog regional trial court dated March 12 surfaced, showing his request for a list of lawyers representing persons linked to the communist movement.
In the light of the recent killings of persons suspected of involvement in the communist insurgency, plus the killings of over 50 lawyers all over the country since 2016, Calabria's request takes on ominous implications. Calabria has denied that the electronic signature on the letter is his, but Lt. Gen. Guillermo Eleazar, who is acting chief of the Philippine National Police as Gen. Debold Sinas recuperates from COVID-19, is not buying this. Eleazar said Sinas approved the relief of the police officers.
The Department of Justice has expressed dismay over the raids in Calabarzon that led to the killing of nine persons, mostly activists linked by the government to the communist insurgency, who were the subjects of arrest warrants for illegal possession of firearms and explosives. As in many of the drug-related killings, the PNP said the activists were shot dead when they fought back.
The relief of the Calbayog police officers is a positive development. Beyond their relief, however, the nation is waiting for the truth about the recent killings, accountability, and some reassurance that there will be an end to police abuses and the excessive use of state power.